October 21, 2012
Beinborn to take part in coaches' chat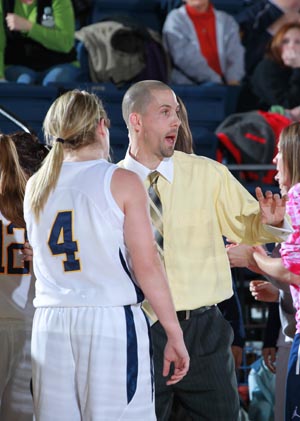 Augustana women's head basketball coach Mark Beinborn will participate in the CCIW's online coaches' chat this Wednesday at 9:00 a.m.
NAPERVILLE, Ill.- Fans wondering what first-year head coach Mark Beinborn's take is on this year's Augustana basketball team, will have a chance to find out and even participate in the discussion Wednesday, October 24, when the CCIW holds its fourth annual coaches' chat. Beinborn will field online questions during the 9:00 to 9:30 a.m. time slot.
Joining Beinborn in Wednesday's first session will be Carthage's Tim Bernero, Elmhurst's Tethnie Carillo and Mia Smith of defending national champion Illinois Wesleyan. The 9:35 to 10:35 time slot will feature Lori Kerans of Millikin and Ken Madsen of Wheaton, along with North Central's Michelle Roof and North Park's Amanda Reese.
Augustana graduated seven seniors from last year's 11-14 squad, but Beinborn welcomes back six letter winners, including starters Gianna Pecora (Downers Grove South HS, Darien, Ill.), Molly Etheridge (Normal Community HS, Bloomington, Ill.) and Chaney Tambling (Dwight Township HS, Dwight, Ill.).
The chat, which will be moderated by CCIW Assistant Commissioner Mike Krizman, can be accessed at: http://www.cciw.org/sports/2012/10/17/WBB_1017120757.aspx?id=775&
Results of the coaches' pre-season poll will be released at its conclusion.