October 21, 2012
CCIW coaches' chat Thursday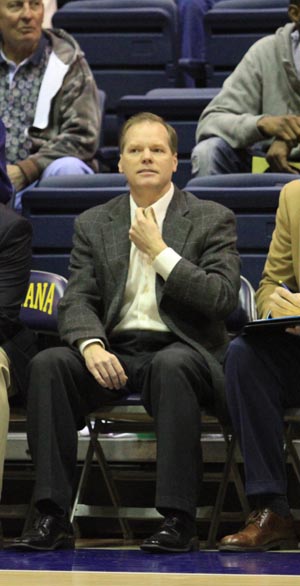 Augustana head men's basketball coach Grey Giovanine will take part in the CCIW's online coaches' chat Thursday morning at 9:00 a.m.
NAPERVILLE, Ill.-With nine newcomers on a 17-player roster, there are bound to be a lot of questions for Augustana coach Grey Giovanine about his 2012-13 Viking basketball team. The public will get a chance to ask some of those on Thursday, October 25, when Giovanine participates in the fourth annual CCIW online coaches' chat. He is scheduled for the first session, running from 9:00-9:30 a.m.
Carthage's Bosko Djurickovic, Elmhurst's Mark Scherer and Ron Rose of Illinois Wesleyan will join Giovanine in the first session on Thursday. The second time slot, which runs from 9:35-10:05 a.m., will have Millikin's Matt Nadelhoffer, North Central's Todd Raridon, Mike Schauer of Wheaton and first-year North Park head coach Tom Slyder.
This year's Vikings return six letter winners, including four who logged multiple starts last year: 6-7 seniors Brandon Kunz (Lake Zurich HS, Lake Zurich, Ill.) and George Dexter (Bettendorf HS, Bettendorf, Iowa), 6-8 junior Kevin Schlitter (Maine South HS, Park Ridge, Ill.) and 6-0 sophomore Mark Roth (Washington HS, Metamora, Ill.). 6-0 sophomore point guard Danielius Jurgutis (Downers Grove South HS, Darien, Ill.) is another key returnee.
The chat, which will be moderated by CCIW Assistant Commissioner Mike Krizman, can be accessed at:
http://www.cciw.org/sports/2012/10/17/MBB_1017120426.aspx?id=774&
Results of the coaches' pre-season poll will be released at its conclusion.