October 20, 2012
Early flourish lets Vikings stay perfect in CCIW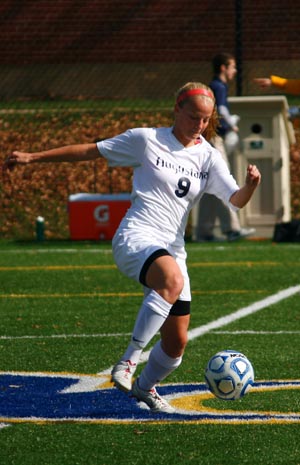 Somer Druszkowski scored a goal and had an assist as the Vikings beat North Central 3-2 to move to 13-3-0 overall and 5-0 in the College Conference of Illinois & Wisconsin.
ROCK ISLAND, Ill. - An onslaught of goals early in the first half helped lift Augustana to a 3-2 victory over North Central on "Senior Day" at Thorson-Lucken Field on Saturday, October 20. The Vikings, ranked fifth in the NCAA Division III Midwest Region, scored three goals in just over 17 minutes en route to moving their record to 13-3-0.
Head coach Scott Mejia's club stayed undefeated and on top of the standings in the College Conference of Illinois & Wisconsin at 5-0. Augustana jumped out to a 3-0 lead before the game was 21 minutes old. Freshman Kelly Farell (St. Ursula Academy, Sylvania, Ohio) got things started when she rammed home her own rebound past North Central goal keeper Jacqueline Clore just 3:12 into the game. It was Farell's 12th goal of the season.
Another freshman, Somer Druszowksi (Lincoln-Way Central HS, Manhattan, Ill.) made it 2-0 at 19:46 when she tallied for the fifth time this year with Farell and senior Taylor Moesle (Carl Sandburg HS, Orland Park, Ill.) picking up assists. Less than a minute later the lead grew to 3-0 when Moesle scored her 10th goal of the season at 20:34. She was assisted on the play by Druszkowski and Farell.
North Central got a goal at the 37:51 mark from hope Stayer, with an assist from Hannah Magiera, to make it 3-1 heading into intermission. Stayer scored again, this time unassisted, at 53:57 to cut the margin to 3-2.
Augustana goalkeeper Meredith Chew (Paradise Valley HS, Phoenix, Ariz.) came up with a huge save on Stayer with less than 10 minutes to play to preserve the lead.
The Vikings held a 22-9 advantage in shots, including a 15-6 edge in the first half. Augustana was ahead 4-0 on corner kicks in the first half and finished the game on top in that category 7-4.