October 20, 2012
Chandler leads Vikings to win at North Park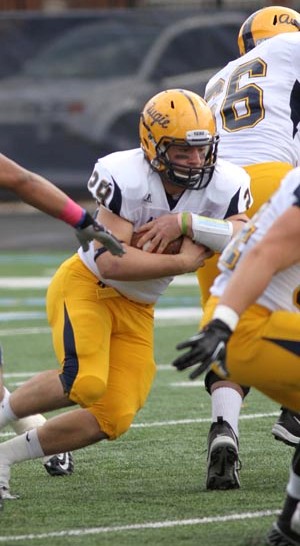 Junior running back Eric Chandler rushed for 203 yards and three touchdowns Saturday as Augustana defeated North Park 35-14 in Chicago, Illinois.
CHICAGO, Ill.-Junior Eric Chandler (Cary-Grove HS, Cary, Ill.) ran for 203 yards and three touchdowns Saturday to lead Augustana to a 35-14 win at North Park. Chandler's rushing total was the highest for a Viking in over seven years and helped the team improve to 3-4 on the year and 2-2 in the CCIW. North Park is now 1-6 overall and 0-4 in the conference.
Not since Mike Guzman rushed for 220 yards against Central in 2005 had an Augustana runner topped 200 yards. Chandler also completed a pass for the second week in a row.
The visitors took the opening kickoff and went 80 yards in 14 plays to take a 7-0 lead. Senior Brett McWilliams (Hononegah HS, Roscoe, Ill.) finished off the march with a six-yard touchdown run. A 28-yard Kyle Snow (Wheaton Warrenville South HS, Wheaton, Ill.) punt return late in the first quarter set Augustana up in good position to score again, but Taylor Simental intercepted a Nick Welch (Oswego HS, Oswego, Ill.) pass to squelch the threat.
Chandler added a six-yard touchdown run of his own - his first of three on the day - with 9:11 left in the second quarter. That capped a 70-yard, seven play drive. Chandler accounted for 44 rushing yards on the march.
Late in the second quarter it looked like the visitors might put another score on the board, but a 41-yard Antonio Owens (Naperville North HS, Naperville, Ill.) run was nullified by a holding penalty, leaving the halftime score at 14-0.
North Park, who had advanced into Augustana territory just once in the opening 30 minutes, took the second half kickoff and went 92 yards in nine plays to cut the lead in half. Matt Hassan went in from 10 yards out for the touchdown. He also had runs of 15 and 19 yards on the drive, but the key play was a 38-yard Jon Williams to Zach Bates completion on third-and-nine from the North Park nine-yard line.
The visitors answered quickly though, as Chandler carried three times for 75 yards, including a 61-yard burst, and scored from six yards out put Augustana back up by two touchdowns. His third six-yard touchdown run of the day made it 28-7 with 4:33 left in the third. That score was set up by his 18-yard pass completion to freshman quarterback Sam Frasco (Prospect HS, Mt. Prospect, Ill.).
Each team added a touchdown in the fourth quarter. Williams and Bates hooked up for a seven-yard touchdown with 14:08 left, capping a 79-yard, 13-play North Park drive. Augustana's last score was set up by a Bo Goshorn (Romeoville HS, Romeoville, Ill.) interception which he brought back to the North Park 24-yard line. It took the Vikings just four plays to get in the end zone, with Frasco covering the last 12 yards for the score.
Augustana finished with 260 rushing yards on 41 carries. Welch completed six of 10 pass attempts for 68 yards. Snow had a pair of receptions for 18 yards. The defense was led by junior linebacker Erik Westerberg (York HS, Elmhurst, Ill.), who was in on 18 tackles, including two for loss. Senior linebacker Joe Spindler (Hononegah HS, Rockton, Ill.) had 13 tackles and a sack.
The Vikings will attempt to extend their winning streak and move over the .500 mark in league play on Saturday, October 27. The Carthage Red Men visit Ericson Field for a 1:00 p.m. kickoff.