Working the Plan: Meet Lori Roderick
As Director of Corporate and Foundation Relations, and Advancement Operations, Lori Roderick '86 uses the strategic plan every day to articulate the priorities of the college when she approaches potential funders. When researching corporations or foundations, Lori asks the question, "Is this funding source interested in supporting any of Augustana's eight strategic imperatives?"
When researching a project or program on campus, she refers to the plan and asks, "Does this Augustana initiative advance any of the plan's first priorities?"
"Her entire year's work plan is based on the answers to those two questions," said Lynn Jackson, vice president of advancement, "and she is amazing at what she does!"
The most rewarding part of her job, Lori says, is when a funder of a project, program or scholarship hears from the students who have benefited from their gift. Augustana recently hosted a day on campus for the executive director of a Chicago-area family foundation. The foundation had granted money to help defray costs for students participating in the JETS Nicaragua program, summer experiences in the Texas Medical Center program, and internships at area non-profit health and welfare organizations.
"Our students took time out of their studies to make thoughtful and passionate presentations about how the hands-on experiences outside the classroom had changed their lives," Lori said. "If a picture is worth a thousand words, a presentation by an Augustana student is worth at least 10,000—or in this case, a $50,000 grant the next year."
The executive director was so impressed and touched that she teared up, Lori said. "And I was reminded that outcomes are not just statistics, they are real experiences guided by dedicated faculty and staff who help our students grow into young adults well prepared to lead with integrity in a changing world."
Affirm, Assure and Assess is a strategic plan designed to address real challenges, assess our actions and measure the effectiveness of our efforts. The eight strategic imperatives identified by a strategic planning task force in 2010 form the building blocks of a plan that focuses on proactive solutions and measurable outcomes.
An Augustana Ghost Story
By Eric Fistler '03, classics, philosophy, religion
Pastor at West Suffield Congregational Church, Connecticut
My freshman year, I was dating a girl who was living in Andreen. She told me her room was haunted, and that sometimes she could feel a spirit in the room. Honestly, as one who never believed in ghosts, I chalked up her story up to a combination of stress, homesickness and taking campfire stories too seriously.
However, I was intrigued. So I went to the Tredway Library to see if anything suspicious had ever occurred in Andreen. Downstairs in Special Collections, where they keep not only the old books, but also a lot of history on Augustana, I asked the librarian if she knew of anything strange that had happened near my girlfriend's room. She got a funny look on her face and said, "Oh, yes, there was an unfortunate accident there many years ago."
She led me to some old, mid-century newspaper articles that described the death of a student by another student. Back when Andreen was an all-male dorm, one student had "accidentally" shot another. No charges were filed, but the articles described a cloud of suspicion that surrounded this tragic accident—which had occurred in the room where my girlfriend was living! I was shocked, and wanted to tell my girlfriend what I had found.
I went to her room. As I was telling her of the mysterious death, we both looked at the window. We felt that something was there. This presence, for lack of a better word, came into the room, moved around it, came up to us and then it went out the window and left. It scared the hell out of me and remains the only paranormal experience I have ever had.
Field Notes
This month's Field Notes presents the insight and experience of two Augustana seniors as we count down to Election Day. Allyson Martinez urges others to vote according to their priorities rather than party lines, and Alicia Oken recounts meeting President Obama at a campaign rally.
Allyson Martinez '13, accounting, economics, finance, MIS
SGA business senator, Honor Council representative, Administrative Liaisons Committee chairman, President's Advisory Council member
This presidential election is a huge election for this country. And for each American, I hope their priorities are what define their choices in candidates. Leading up to this election, Americans must become informed on issues and not vote along party lines. To be an intelligent and informed voter, voters must research and study up on issues and then form a conclusion....
I have done my best to become informed by attending debates, fact checking, asking questions and pulling what resources I have to form an opinion. In the end, I think this goes much farther in helping choose the right candidate than any status update or tweet will ever go.
My priority for this election is the future of the American economy. As an economics major, I was lucky to have many resources at hand to help me research both candidates' policies. My conclusion was that Mitt Romney's economic policies will have the quickest gain for the smallest amount of pain.
However, it's not good to say that America is very uninformed if President Obama is reelected, but rather Americans had different priorities and opinions. In part, this is what makes election season so great—because it brings to light various issues and helps everyone become more informed. In conclusion, my only advice is to not vote just for the candidate or party, but rather focus on your priorities and why they decide your vote.
Alicia Oken '13, communication studies, multimedia journalism/mass communication, political science
Observer opinions editor, WAUG program director, SGA parliamentarian, president of College Democrats
As I reached out my hand and grasped the hand of the man in front of me, I was officially shaking hands with one of the most powerful men in the world, the President of the United States. Just moments before, I also had the pleasure of shaking hands with First Lady Michelle Obama. To say this will be one of the highlights of my college experience is an understatement.
A week earlier, I had received an email asking if members of Augustana's College Democrats would be interested in VIP tickets to see the President and First Lady speak at a rally in Davenport. That is just an opportunity that you don't turn down, no matter your prior plans....
Hearing the President and First Lady speak was an incredible experience. Since we had VIP tickets, we were able to get right in front of his podium in the second row. There really isn't anything like attending a campaign rally. The crowd was so enthusiastic and passionate about hearing the President speak and everyone was decked out in Obama gear. Despite the sunburn and blisters I received that day, getting to shake the President's hand when he came around the front of the crowd made it all worth it.
New Face on Campus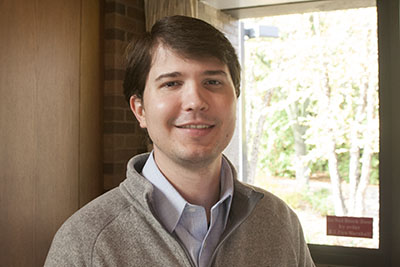 Jordan Purdy, Fellowship Instructor in Mathematics
B.S., mathematics, George Fox University
M.A., Ph.D., mathematics, University of Montana
Jordan Purdy grew up in a musical household in Oregon, but baseball was his real passion. Recruited as a pitcher by George Fox University, Jordan was a member of the 2004 Bruins baseball team that won the NCAA Division III national championship. But his fastball didn't get any faster as his collegiate baseball career advanced, and Jordan began to take a greater interest in mathematics.
He pursued graduate school at the University of Montana in Missoula, where he was able to reconnect with family and his love of the Rocky Mountains. According to Jordan, "In Missoula, you can literally walk out your front door and be hiking a mountain trail in minutes."
Jordan's specialty is in spatial statistics. His research focuses on modeling the spread of binary response variables over space and time, such as the spread (presence or absence) of a disease, while accounting for any number of ecological and/or environmental covariates. He currently is working with consultants in Montana on modeling potential infestation paths of the tree-killing Mountain Pine Beetle.
He credits the math department for making his transition to Augustana seamless, and while he misses the peaks and vast expanses of the American West, he finds Augustana very much like his alma mater. A product of a liberal arts and sciences college experience, Jordan enjoys teaching Augustana students. "I'm a competitive person, and I enjoy challenging students in a way that motivates and inspires them to push beyond their perceived limits," he said.
Jordan and his wife, Amber, who studied pharmacy at the University of Montana, have been married for five years. They live in Maquoketa, where she works as a pharmacy resident.
From the Cabinet
Evelyn Campbell, Dean of Students
This fall, you may have read several emails from me expressing concern over vandalism in the residence halls and around campus, and noting an attitude of disrespect toward students, staff and faculty. Since then, I have been heartened to find chalk writing and campus fliers from B.A.B., or "Bring Augie Back." This student group is trying to raise awareness and motivate other students to bring about "POSITIVE change to the Augustana Community."
As the flier says, "Augie is not only a school, it is a community. OUR community."
The students involved in this initiative have stated it is about students, and it is the students who make Augustana great. B.A.B. has a Facebook page, and I encourage you to become their friend. They also are making a video to promote respect and end the negative behaviors.
I am glad to see such a visible example of students organizing to bring about positive change. And I have been equally encouraged by conversations I have been part of, or have heard are taking place in organized settings from athletics to Greek meetings to the Board of Trustees. Since one primary goal of Student Services is to help students develop into good citizens and learn leadership skills, it is affirming to see students put what they have learned at Augustana into action, and make their community a better place.
In the Works
Director of Human Resources Laura Ford authors a perennial series of information and wisdom pertaining to being an employee at Augustana College. In this issue: FAQs about the new wellness program on campus.
What exactly is this new plan? Guiding Life is a company that provides health risk assessments, customized reporting, telephone coaching and other support for living a healthy and active lifestyle. It begins with a 36-point blood draw, or biometric testing. The Guiding Life approach is in sync with our plan to encourage healthy changes, rather than penalize those who do not make this a priority.
Why is Augustana introducing this plan and whose idea was it? This initiative came out of joint meetings of the campus benefits committee and wellness team. Both teams felt a more formal approach to wellness would be effective in providing resources to Augustana employees, as well as investing in the long term of our health insurance plan. We hope this plan will allow and encourage employees to address health risks early. The teams interviewed four potential vendors and chose Guiding Life as the best, most cost-effective solution.
If it is so good, why offer a $75 gift card incentive? Many employees are already engaged in healthy lifestyle choices, but many of us have good intentions that are never realized. By holding the biometric testing here on campus (November 28-30), we hope it will be easy for employees to participate—but thought a gift card right before the holidays might give further incentive to make this a priority.
Who is eligible? All employees can participate. The screening will be free for those in the Augustana Health Plan, and only those employees are eligible for the $75 gift card. Employees who are not part of the health plan can participate in the biometric screening and additional services for a reduced rate of $105, payable at the time of the screening.
Is this only for the unhealthy, overweight or unaware? No! The screening will look at many health concerns and there are programs to address a wide variety of issues, such as blood pressure, stress management and cancer risks, as well as weight control, a more active lifestyle and healthy eating programs. This is valuable information for all employees, regardless of their current health status.
How do I know my private health information won't be shared? Guiding Life complies with all HIPPA and privacy regulations, and information will be shared with Augustana only as aggregate, non-identifying information. Your individual information will be shared only with you and any healthcare professionals you might designate.
Will this testing and incentive be a yearly occurrence? This is our kick-off event. The benefits team will be considering whether plan changes, a different premium or continued incentives would be the best option to encourage ongoing participation.
Where can I get more information? Representatives from Guiding Life will hold open forums in the College Center loft on Tuesday, October 23. You also can find more information from any member of the HR team or at guiding-life.com.
Seen & Heard
"What are you most pleased about?"
"The new classroom space."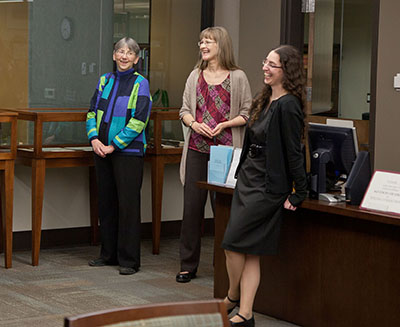 Librarians answered this question nearly in tandem at the Special Collections grand reopening October 2. The new classroom accommodates much larger groups than did the previous facility. Overall, Sarah Horowitz and Jamie Nelson counted 330 people using Special Collections in the first two days since it reopened, including 314 students.
Acknowledge is published by the Office of Communication and Marketing at Augustana College in Rock Island, Illinois. Contact Beth Roberts, editor. Photos in this issue were contributed by Scott Cason, and by Drew Barnes '14 and Long Nguyen '16 of the Augustana Photo Bureau.