October 18, 2012
Augustana eighth in Midwest Region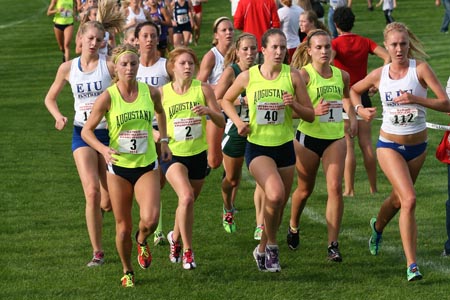 The Augustana women's cross country team is ranked eighth in the Midwest Region. The Vikings are off this weekend but will compete in the College Conference of Illinois and Wisconsin Championship on October 27.
ROCK ISLAND, Illinois - Augustana fell to eighth place in the NCAA Division III Midwest Regional ranking after finishing 14th at the Wisconsin-Oshkosh Invitational on Saturday, October 13 in Winneconne, Wisconsin at Lake Breeze Golf Course. The Vikings of veteran head coach Fred Whiteside have hovered in the range of sixth to eighth in the region for most of the season.
Senior Sarahbeth Jones (Warren Township HS, Wadsworth, Ill.) again led the way for the Vikings finishing 12th at the Wisconsin-Oshkosh Invitational in Winneconne, Wisconsin. Calvin won the team title with 91 points. Midwest Regional residents Chicago and Wisconsin-Eau Claire finished second and third, respectively, in the team standings.
Chicago is the number one ranked in the region after that second place finish this past weekend with Wisconsin-Eau Claire moving into second in the region. Illinois Wesleyan, Washington (Mo.), Wisconsin-Oshkosh, Wisconsin-La Crosse and Wisconsin-Stevens Point are all ranked ahead of Augustana. St. Norbert and Carthage round out the top ten.
The Vikings will participate in the College Conference of Illinois and Wisconsin Championships in two weeks. The meet is schedule for Saturday, October 27 and will be held at St. James Farm in Wheaton, Illinois.
NCAA DIVISION III MIDWEST REGION RANKINGS
As of 10/16/12
1 - Chicago
2 - Wisconsin-Eau Claire
3 - Illinois Wesleyan
4 - Washington (Mo.)
5 - Wisconsin-Oshkosh
6 - Wisconsin-La Crosse
7 - Wisconsin-Stevens Point
8 - AUGUSTANA
9 - St. Norbert
10 - Carthage
- Story written by student assistant Paul Hurd