October 18, 2012
Augustana gets big win at Wartburg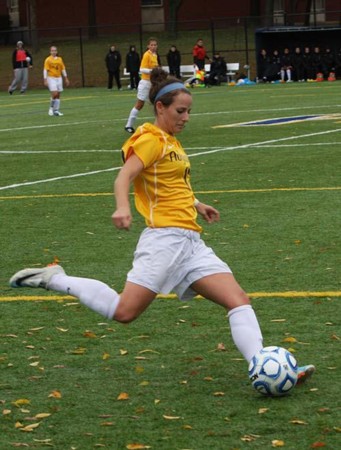 Junior Ally Frickman scored the go-ahead goal in the 71st minute Wednesday as Augustana defeated Wartburg 4-2 in Waverly, Iowa.
WAVERLY, Iowa-Junior Ally Frickman (Loveland HS, Loveland, Colo.) scored the go-ahead goal in the 71st minute Wednesday and freshman Kelly Farell (St. Ursula Academy, Sylvania, Ohio) added her second of the night eight minutes later as Augustana picked up a 4-2 non-conference win at Wartburg. The Vikings improve to 12-3 on the year, while the hosts, who received votes in this week's national poll, fall to 10-3-2.
Senior Taylor Moesle (Sandburg HS, Orland Park, Ill.) gave the Vikings an early lead, scoring her ninth goal of the season on a penalty kick in the sixth minute. Wartburg's Rachel Terry leveled the score with a 30-yard blast in the 14th minute.
Farell's first goal of the evening, and 10th of the season, gave Augustana a 2-1 advantage in the 32nd minute. Moesle picked up her team-high ninth assist on the play. The match went to halftime with the Vikings up 2-1.
After 25 scoreless minutes in the second half, Wartburg benefited from an own goal to even the score at 2-2. However, just seconds later, Frickman scored her first of the season, beating Wartburg keeper Monica Noti with a shot inside the left post for a 3-2 Augustana lead. Farell added an insurance goal off a Stef Hamaker (Boylan Catholic HS, Caledonia, Ill.) assist in the 79th minute to account for the final.
The Knights had a 10-9 shot advantage in the match and a 6-1 edge in corners. Viking keeper Meredith Chew (Paradise Valley HS, Phoenix, Ariz.) recorded four saves and Noti had three.
Coach Scott Mejia's club will try to stay perfect in the CCIW when it plays its final regular season home match Saturday, October 20 against North Central. The Cardinals visit Thorson-Lucken Field for a 1:00 p.m. match as part of a women's/men's doubleheader.