October 16, 2012
Late goal by Wolfe allows Vikings to tie Dubuque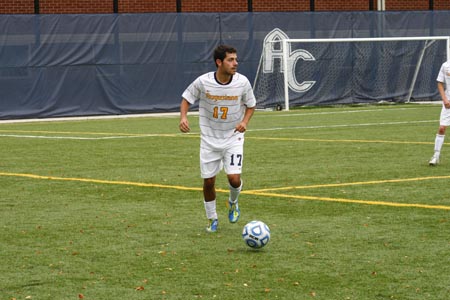 Senior Nick Wolfe scored the equalizing goal with just over 10 minutes to play in regulation as Augustana forged a 1-1 tie at Dubuque on Tuesday, October 16.
DUBUQUE, Iowa - A goal by Nick Wolfe (Neuqua Valley HS, Naperville, Ill.) late in the second half allowed Augustana to forge a 1-1 double overtime tie against Dubuque on Tuesday, October 16 in Dubuque, Iowa. The Vikings fell behind in the first half before Wolfe scored the equalizer.
Cory Winkler put the Spartans ahead with a goal at 31:31 of the first stanza with assists going to Brayden Prothero and Derek Garcia. Wolfe scored the game tying goal at 78:19.
The two teams played fairly even with Dubuque holding the edge in shots by a slim 17-16 margin although Augustana outshot the hosts 4-0 in the second overtime. The Spartans had a 12-9 advantage in corner kicks. Although Dubuque launched 17 shots, only two of them were on goal with Viking goalkeeper Tyler Cowherd (Bettendorf HS, Bettendorf, Iowa) collecting one save. Augustana put pressure on Spartan goaltender Jake O'Rourke with seven shots-on-goals, forcing O'Rourke to make six saves.
Matt Shipon (South Elgin HS, Elgin, Ill.) led the Vikings in shots with five while Jason Beckus (Neuqua Valley HS, Naperville, Ill.) had three.
Augustana is now 6-6-3 overall while Dubuque is now 10-4-1.