October 17, 2012
Vikings drop tight match at Monmouth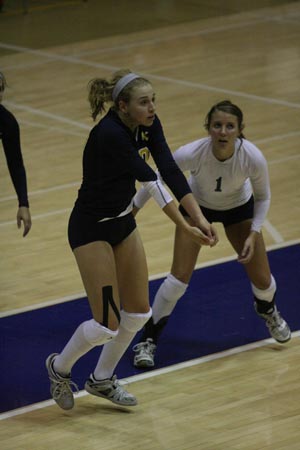 Freshman Emilie Willingham (dark jersey) had 11 kills and 12 digs during Augustana's tough 3-2 loss at Monmouth on Tuesday, October 16 while fellow freshman Kylie Siebert (white jersey) had a team-leading 31 digs.
MONMOUTH, Ill. - In a see-saw affair, Augustana dropped a 3-2 decision at Monmouth in a non-conference battle on Tuesday, October 16 at Glennie Gymnasium. The Vikings dropped the first set 25-18 before bouncing back to win sets two (25-17) and three (25-22). The Scots took the fourth set (25-22) and won the clincher by a score of 16-14.
Sophomore Emily Leazer (St. Viator HS, Mt. Prospect, Ill.) ripped off 23 kills to lead Augustana on offense. She also had three service aces and five digs. Freshman Emilie Willingham (Kirkwood HS, Kirkwood, Mo.), getting appreciative playing time after injuring her elbow earlier this year, had 11 kills with just five errors in 26 attempts for a .231 kill percentage. She also had 12 digs.
Sophomore Morgan Stittleburg (Black River Falls HS, Black River Falls, Wis.) picked up seven kills with two digs while sophomore Samantha Kammerman (Sherrard HS, Milan, Ill.) had five kills.
Freshman Jordan Hampel (Hilliard-Davidson HS, Hilliard, Ohio) led the Vikings with 49 setting assists and she chipped in with five digs and three kills as well. Freshman Kylie Siebert (Kaneland HS, Sugar Grove, Ill.) had a team-leading 31 digs with three setting assists and two service aces.
Augustana is now 16-8 overall, the same record as Monmouth.