October 16, 2012
Farell Player of the Week for the 2nd time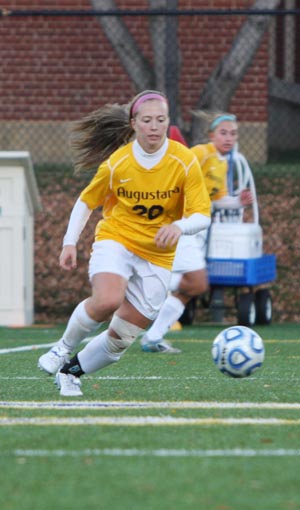 Augustana freshman Kelly Farell scored one goal and had three assists in wins over Carthage and Illinois Wesleyan to garner CCIW Offensive Player of the Week honors for the second time this season.
ROCK ISLAND, Ill.-For the second time in three weeks, Augustana freshman Kelly Farell (St. Ursula Academy, Sylvania, Ohio) has been named the CCIW's Offensive Player of the Week. Her performance helped move the Vikings to 11-3 on the year and into sole possession of the conference lead at 4-0. Elmhurst goalkeeper Maddie Fitzpatrick earned the league's Defensive honors.
Farell, who leads Augustana with nine goals this season, scored once and added three assists in conference wins over Carthage and Illinois Wesleyan at Thorson-Lucken Field this past week. She has six assists on the year and is tied with senior Taylor Moesle (Sandburg HS, Orland Park, Ill.) for the team lead with 24 points.
Farell was also named the conference Offensive Player of the Week on October 2 and this week's honor is the third Player of the Week award for the Vikings this season. Freshman goalkeeper Meredith Chew (Paradise Valley HS, Phoenix, Ariz.) was the league's Defensive POW on September 11.