October 16, 2012
Volleyball raises $825 for local coach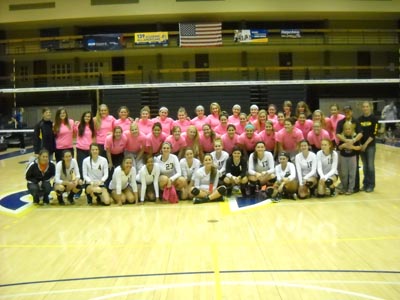 Members of both the Augustana and Black Hawk College volleyball teams gather in the Carver Center for a team photo after a junior varsity match on October 11. The Vikings helped raise $825.00 in support of Black Hawk head coach Mary Davis in her fight against breast cancer.
In the middle of a tremendously successful season, the Augustana volleyball team took some time out to help an area coach. The Vikings raised a total of $825.00 in honor of Black Hawk College head coach Mary Davis.
Currently sitting with a 16-7 overall record, head coach Jamie Walter's team bought pink "Fighting for Mary" t-shirts that were then sold to recent spectators at Viking matches. The shirts said "Fighting for Mary" on the front and on the back was a pair of boxing gloves with the slogan "The fight is on".
"Mary Davis is an inspiration to us all, said Walters, who is in her third year as the head coach at Augustana. "She has been a driving force in the Quad Cities for the sport of volleyball, and is one of the most respected women leaders here as well. Mary has shown that anything is possible with a strong head on your shoulders and a positive outlook. This is something that we thought was an important cause. When we have the opportunity to help out a friend in the volleyball world, especially someone who is local, we are glad to help."
Walters took her team to a Black Hawk match earlier this year in support of Davis, who is fighting breast cancer. The Vikings then dedicated their October 2 College Conference of Illinois & Wisconsin match with North Central to selling the shirts as part of "Breast Cancer Awareness Night".
Last Thursday, October 11, the Augustana junior varsity played Davis' Black Hawk team in the Carver Center and the Vikings came away with a hard-fought five-set victory over the Braves. The t-shirts were sold there as well and the final tally came up to $825.00.