October 14, 2012
Laxin' for the Cure a success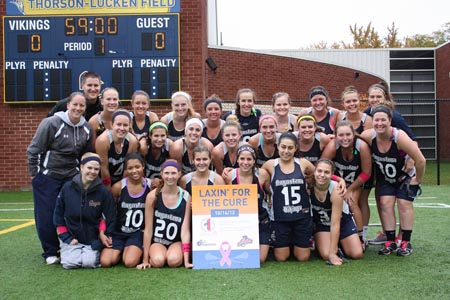 The Vikings raised over $500.00 at Laxin' for the Cure on Sunday, October 14 at Thorson-Lucken Field and also went 3-0 during the competition.
One year ago the Augustana women's lacrosse team enjoyed a highly successful debut on the field with a 15-3 record and NCAA leading statistics in three team categories. On Sunday, October 14, the Vikings of second year head coach Sara Tisdale proved to be equally adept at raising money for a worthy cause.
Augustana hosted a fundraiser called "Laxin' for the Cure" at Thorson-Lucken Field and the results were a success – both on the field and off. The fundraiser was a round-robin "play day" that involved Loras, Midland Lutheran, Carthage and, of course, Tisdale's Vikings.
The effort resulted in a successful day at the box office with over $500.00 ($516.00 to be exact). Proceeds from the event went to Gilda's Club of the Quad Cities. The final match of the day was between Carthage and Augustana and the two teams went "pink" for the game.
In an impressive display, Augustana won all three matches. The Vikings defeated Loras 14-0, took care of Midland Lutheran 6-3 and beat Carthage 7-4.
The "Laxin' for the Cure" concluded the fall ball season for Tisdale and her team. Augustana will open the second season of women's lacrosse on February 21, 2013 with a match at the University of Redlands in Redlands, California.
2013 AUGUSTANA WOMEN'S LACROSSE SCHEDULE
| | | | |
| --- | --- | --- | --- |
| DATE | OPPONENT | LOCATION | TIME |
| February 21 | Redlands | Redlands, Cali. | TBA |
| February 23 | Occidental | Los Angeles, Cali. | TBA |
| February 25 | Whittier | Whittier, Cali. | TBA |
| March 8 | Hope | HOME | 7:30 p.m. |
| March 9 | Loras | Dubuque, Iowa | 2:00 p.m. |
| March 16 | Adrian | HOME | 1:00 p.m. |
| March 17 | Albion | HOME | 12:00 p.m. |
| March 23 | Beloit | Beloit, Wis. | 1:00 p.m. |
| March 27 | Concordia-Wis. | HOME | 7:30 p.m. |
| April 2 | Carthage | HOME | 7:30 p.m. |
| April 6 | Fontbonne | HOME | 4:00 p.m. |
| April 12 | Otterbein | Westerville, Ohio | 5:30 p.m. |
| April 13 | Mount St. Joseph | Cincinnati, Ohio | 12:00 p.m. |
| April 16 | North Central | HOME | 7:30 p.m. |
| April 20 | Aurora | Aurora, Ill. | 1:00 p.m. |
| April 23 | Benedictine | Lisle, Ill. | 6:00 p.m. |
| April 27 | Dubuque | HOME | 7:30 p.m. |
| May 3-4 | MWLC Tourney | TBA | TBA |
| May 8 | NCAA Tourney | TBA | TBA |