October 14, 2012
Druszkowski's OT goal lifts Vikings over IWU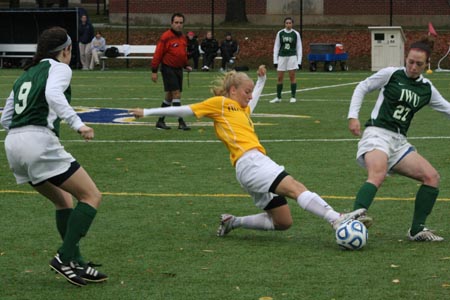 Freshman Somer Druszkowski scored her fourth goal of the season in the second overtime Sunday to give Augustana a 2-1 win over Illinois Wesleyan.
ROCK ISLAND, Ill. - Augustana freshman Somer Druszkowski (Lincoln-Way Central, Manhattan, Ill.) scored with 6:17 remaining in the second overtime session Sunday to give the Vikings a 2-1 victory over Illinois Wesleyan at Thorson-Lucken Field. With the win, Augustana moves atop the CCIW standings at 4-0 and improves to 11-3 overall. The Titans suffered their first conference loss and are now 6-7 overall and 3-1 in the league.
Druszkowski received an assist from classmate Kelly Farell (St. Ursuala Academy, Sylvania, Ohio) on the game-winner, which was her fourth goal of the season.
The visitors got on the board first on a Hannah Ketterling goal, her second of the season, in the 20th minute. Augustana answered in the 39th minute when freshman Jessica Kras (Glenbard North HS, Carol Stream, Ill.) scored her fourth goal of the season off an assist from senior Taylor Moesle (Sandburg HS, Orland Park, Ill.).
Illinois Wesleyan got off six shots to Augustana's five in the scoreless second half and each team took one shot in the first overtime period. The Titans finished with a 16-11 shot advantage for the entire match and also had a 3-1 edge in corners. Freshman keeper Meredith Chew (Paradise Valley HS, Phoenix, Ariz.) recorded five saves for the Vikings, while Zoie Samaan had six for Illinois Wesleyan.
Next up for Augustana is a trip to Waverly, Iowa on Wednesday, October 17 for a 5:00 p.m. match at Wartburg.