October 14, 2012
Vikings fall to IWU 4-1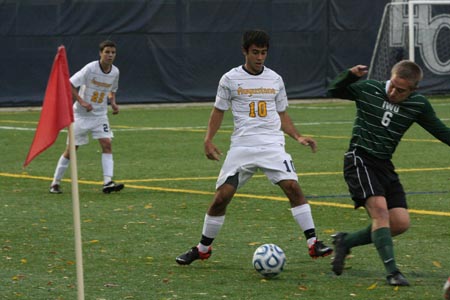 Junior Kyle Polanco assisted on Augustana's only goal Sunday in a 4-1 loss to Illinois Wesleyan at Thorson-Lucken Field.
ROCK ISLAND, Ill. - Illinois Wesleyan's Tim Griffin scored in the 10th minute Sunday and the Titans went on to a 4-1 win over Augustana at Thorson-Lucken Field. The Vikings fall to 6-6-2 on the year and 2-1-1 in the conference, while CCIW-leading IWU improves to 11-2 overall and 4-0 in the league.
In the 26th minute, Declan Geraghty scored off a rebound to put the visitors up 2-0.
Augustana senior Nick Wolfe (Neuqua Valley HS, Naperville, Ill.) cut the lead in half in the 33rd minute with a beautiful goal off an assist from junior Kyle Polanco (Lincoln-Way North HS, Frankfort, Ill.). The goal was Wolfe's second of the season. The first half ended with the Titans leading 2-0.
Illinois Wesleyan extended the advantage back to two goals in the 56th minute on a Jeff Graham goal and Angelo Catalano's goal in the 68th minute accounted for the final. Catalano was assisted by John Horstman and Adam Flaugher.
The Titans wound up with a 16-8 edge in shots, while the hosts had a slight 6-4 advantage in corners. Both Augustana goalkeeper Brett Johnson (Zion Benton HS, Beach Park, Ill.) and his Titan counterpart, Tim Hegwood, recorded one save in the match.
Up next for coach Brenton Joseph's club is a match at Dubuque on Tuesday, October 16 at 7:00 p.m.