October 13, 2012
Balanced effort leads Vikings to 6th place at Oshkosh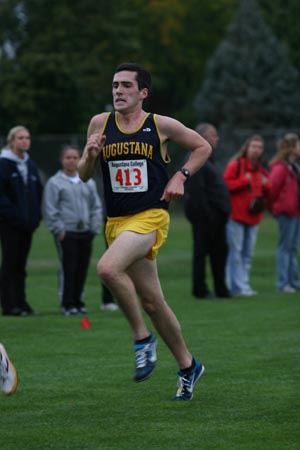 Senior Brian Pollastrini ran a 41st-place 25:57 Saturday to help Augustana finish sixth at the UW-Oshkosh Invitational.
WINNECONNE, Wis.-Behind a balanced effort that saw five Vikings finish between 21st and 55th, coach Paul Olsen's Augustana cross country team took sixth place Saturday at the 38-team Brooks Invitational hosted by Wisconsin-Oshkosh. Senior Jonathan Smith (Moline HS, Moline, Ill.) covered the eight kilometers at Lake Breeze Golf Course in 25:34 to finish 21st, highest among Viking runners.
Calvin won the team title, edging out North Central 52 points to 58. Wisconsin-Eau Claire was third with 93 points, followed by Washington University with 127, Wisconsin-Stevens Points with 163 and Augustana with 174.
Noah Droddy of DePauw was individual winner, beating out Calvin's Dan Kerr by just .64 seconds. Droddy finished in 24:49.15 to 24:49.79 for Kerr. Jeremy Keiser and Aaron Easker of UW-Eau Claire and Dan Kerley and Yonatan Mascote of North Central finished third through sixth, respectively.
Freshman Keith Sands (United Township HS, Silvis, Ill.) was second among Viking harriers, running a 29th-place 25:43. Senior Brian Pollastrini (York HS, Elmhurst, Ill.) was 41st in 25:57, one second and one place ahead of senior teammate Justin Smith (Fenton HS, Bensenville, Ill.). Senior Nathan Smith (Fenton HS, Bensenville, Ill.) was 55th in 26:03. The Augustana top seven was rounded out by freshman Dan Popek (Minooka HS, Minooka, Ill.), who was 85th in 26:22 and sophomore Nick Gornick (York HS, Elmhurst, Ill.), who finished 92nd in 26:27.
In two weeks, the Vikings will compete at the CCIW Championships in Wheaton, Illinois. The starter's gun is scheduled for 1:00 p.m. on Saturday, October 27.