October 13, 2012
Jones 12th, Vikings 14th at Oshkosh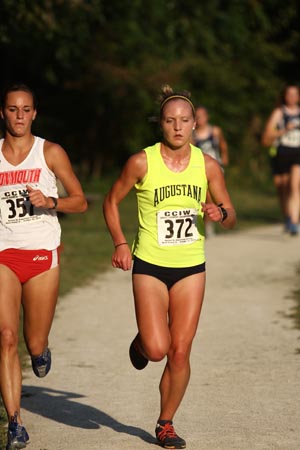 Sarahbeth Jones finished 12th individually and helped Augustana to a 14th-place team finish at the UW-Oshkosh Invitational Staurday.
WINNECONNE, Wis.-Augustana senior Sarahbeth Jones (Warren Township HS, Glen Allen, Va.) covered six kilometers in 22:16 Saturday to take 12th place at Wisconsin-Oshkosh's Brooks Invitational. The Vikings finished 14th among 37 teams at the meet held at Lake Breeze Golf Course.
Alison Steinbrunner of Ohio Northern was the individual winner in a time of 2:24.50. Christy Cazzola (2:32.24) of the host school was second, followed by Washington University's Lucy Cheadle (21:35.41).
Calvin, with 91 points won the team title, beating out second-place Chicago (114) and third-place UW-Eau Claire (115).
Sophomore Jessica Bacon (Rock Island HS, Rock Island, Ill.) was second among coach Fred Whiteside's Vikings, finishing 86th in 23:45. Junior Kristyn Barton (York HS, Elmhurst, Ill.) was 119th in a time of 24:00. Senior Tara Bisty (Joliet Catholic HS, Joliet, Ill.) ran a 24:05 to finish 123rd and junior Kate Benge (Pleasant Valley HS, Bettendorf, Iowa) was 152nd in 24:18. The Augustana top seven was rounded out by Kirstillyn Pohlman (Zion Benton Township HS, Winthrop Harbor, Ill.) with a 155th-place 24:21 and sophomore Becca Sund (Palatine HS, Palatine, Ill.), who finished one spot and one second behind her.
The Vikings now await the CCIW Championships, which will be held Saturday, October 27 at St. James Farm in Wheaton, Illinois. Starting time is scheduled for 12:45 p.m.