October 13, 2012
Augustana wins two at Dubuque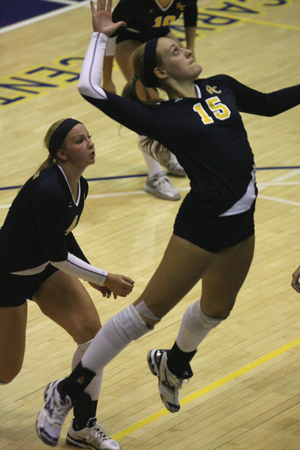 Sophomore Dory Dudley had 31 kills Saturday, helping lead Augustana to wins over Dubudue and Iowa Wesleyan in Dubuque, Iowa.
DUBUQUE, Iowa - Behind 31 Dory Dudley (Tremont HS, Tremont, Ill.) kills, coach Jamie Walters' Augustana volleyball team moved to 16-7 with wins over Dubuque and Iowa Wesleyan Saturday. The Vikings defeated the host Spartans in four sets--avenging a loss earlier this season--and the Tigers in three straight.
AUGUSTANA 3, DUBUQUE 1 (25-20; 27-25; 19-25; 25-16)
Dudley had 18 kills in Augustana's opening match of the day, but was far from Walters' only weapon, as sophomore Emily Leazer (St. Viator HS, Mt. Prospect, Ill.) added 14 and freshman Martha Murray (Evanston Township HS, Evanston, Ill.) a dozen. Freshman setter Jordan Hampel (Hilliard Davidson HS, Hilliard, Ohio) piled up 44 assists and also had nine digs, second only to Murray's 10.
AUGUSTANA 3, IOWA WESLEYAN 0 (25-21; 25-22; 25-12)
Walters went deep into her bench in the day's second match, playing 16 players in a three-set win over Iowa Wesleyan.
Dudley had 13 kills against the Tigers and Leazer eight. Leazer also had four service aces to give her a total of eight on the day. Freshman libero Kylie Siebert (Kaneland HS, Sugar Grove, Ill.) recorded a team-high 22 digs and Hampel delivered 19 more assists. Freshman setter Katie Canning (Downers Grove North HS, Westmont, Ill.), in her first varsity action, matched Leazer's four aces and added eight assists.
The Vikings play a 7:00 p.m. match at Monmouth on Tuesday, October 16.