October 13, 2012
Vikings get 24-14 Homecoming win over Millikin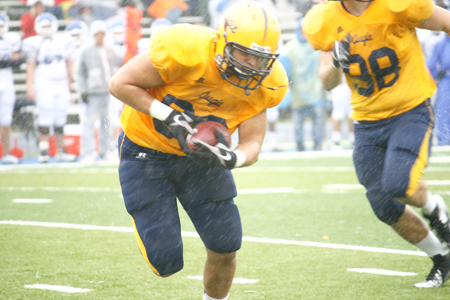 Freshman Brandon Stiers on his way to a game-tying touchdown on a 32-yard punt return Saturday at Ericson Field. Stiers' play proved pivotal as the Vikings came back for a 24-14 Homecoming win over Millikin.
ROCK ISLAND, Ill.-Augustana scored 24 unanswered points Saturday to come back from an early deficit and post a 24-14 win over Millikin on Homecoming at Ericson Field. The Vikings improve to 2-4 overall and 1-2 in the CCIW. Millikin falls to 3-3 overall and 0-3 in the league.
It turned out to be an eventful Homecoming afternoon which saw, among other things, a negative 20-yard punt returned 32 yards for a touchdown, a pair of touchdowns passes on trick plays and a 23-play, 13-and-a half minute touchdown drive. In addition much of the first half was played in a torrential downpour.
Things started well for the hosts, as Augustana forced a Big Blue three-and-out on the game's first possession and then proceeded to march 35 yards in seven plays. Unfortunately, the drive stalled and Brady Rogers' (Cherokee Trail HS, Parker, Colo.) 36-yard field goal attempt hit the right upright to keep the game scoreless.
From there, it took Millikin just six plays and 2:11 to go 80 yards to take the lead. Big Blue quarterback Matt Holmes hit Erik Tobey with completions of 42 and 27 yards, with the latter going for the go-ahead touchdown. After Darrell Mitchell intercepted a Nick Welch (Oswego HS, Oswego, Ill.) pass on the Vikings' first play of the ensuing drive, Big Blue coach Patrick Etherton called for a flea-flicker. Holmes handed to running back Sean Dunning, who pitched back to Holmes, who then found Tobey in the end zone for a 30-yard touchdown. Austin Brettschneider's PAT gave the visitors a 14-0 less than six and a half minutes into the game.
The Augustana defense came up with a pivotal stop on Millikin's next possession. With 7:18 still remaining in the opening quarter, the Big Blue took over at the Viking 30-yard line following a botched punt snap by the hosts. However, on second down from the 27, sophomore defensive end Sean McIntyre (Genoa-Kingston HS, Genoa, Ill.) recovered a Holmes fumble to keep Millikin from extending its lead and completely turning the momentum in Augustana's favor.
The Vikings offense went 72 yards in nine plays to get on the board. A 21-yard touchdown on a halfback option pass from Eric Chandler (Cary-Grove HS, Cary, Ill.) to Torre Harrell (Bloomington HS, Bloomington, Ill.) on fourth-and-three capped the drive.
Possibly the biggest play of the game came early in the second quarter during one of the heaviest downpours. Big Blue punter Grant Shreve, attempting to pin Augustana deep in its own territory, had the snap slip through his hands. He chased it down and got the kick off, but it went sideways, 20 yards behind the line of scrimmage. Freshman defensive end Brandon Stiers (Deer Creek Mackinaw HS, Mackinaw, Ill.) scooped it up and broke several tackles on his way to a 32-yard touchdown down the left sideline. Rogers PAT tied it at 14-all with 12:06 to play in the half.
A pair of Viking interceptions set up scoring opportunities later in the quarter. First, sophomore free safety Bo Goshorn (Romeoville HS, Romeoville, Ill.) picked off a Holmes throw and returned it 35 yards to the Big Blue eight-yard line. The offense couldn't punch it in the end zone and had to settle for a 20-yard go-ahead field goal by Rogers. On Millikin's next possession, it was junior Tim Maroder (Burlington Central HS, Elgin, Ill.) intercepting Holmes and bringing it back 17 yards to the Big Blue 22. Augustana again failed to pick up a first down and Rogers' 30-yard field goal attempt was wide left. Brettschneider missed a 34-yarder late in the half as well and the Vikings went to the locker room leading 17-14.
The story in the second half was the only score that took place and the remarkable drive that preceded it. After the first three possessions of the third quarter failed to yield a first down, Millikin went on a 50-yard 11-play march which culminated with a fourth-and inches at the Viking 12-yard line. Eschewing the potential game-tying field goal, the Big Blue decided to go for it and linebacker John Draminski (Wethersfield HS, Kewanee, Ill.) broke through to drop Holmes for a one-yard loss and give Augustana possession.
That would be the last time the Millikin offense would see the ball for nearly 13 and a half minutes. The Vikings started at their own 13-yard line and moved across midfield. It looked like the march had stalled when they faced fourth-and-10 from the Millikin 30. However, Welch found Nick Krantz (Moline HS, Moline, Ill.) for an 11-yard completion to keep the drive alive. A 3-yard shovel pass to Antonio Owens (Naperville North HS, Naperville, Ill.) on fourth-and-one from the 10 prolonged it further and Augustana converted its third fourth-down play of the march when Welch found Owens in the back of the end zone on fourth-and-goal from the four to make it 24-14 Vikings. The 87-yard journey lasted 23 plays and took 13:26 off the clock.
After one more huge defensive stop by the Augustana defense, Welch and company put together an 11-play, 67-yard drive that used up the final 5:35 and iced the win.
The hosts wound up with a 37:43 to 22:17 advantage in time of possession, including 22:19 to 7:41 in the second half. The Viking defense held a Millikin offense averaging 39.6 points and 433.4 yards per game to just 272 total yards and just 50 in the second half. Holmes, who came in 10th in the nation in passing efficiency, finished just 12 of 25 for 185 yards, two touchdowns and two interceptions. Dunning, who came in averaging over 100 rushing yards per game and nearly seven per carry, was held to 52 yards on 17 rushes. Draminski and Erik Westerberg (York HS, Elmhurst, Ill.) tied for the team led with nine tackles each.
Chandler led the Viking running attack with 86 yards on 16 carries and Welch completed 19 of 26 pass attempts for 115 yards with one touchdown and one interception. Owens and Kyle Snow (Wheaton Warrenville South HS, Wheaton, Ill.) each caught six passes for 47 yards.
Coach Rob Cushman's Vikings will try to make it two in a row when they travel to Chicago, Illinois on Saturday, October 20 to take on North Park. Game time is scheduled for 1:00 p.m.