Two students earn full Gates Foundation scholarships
October  11, 2012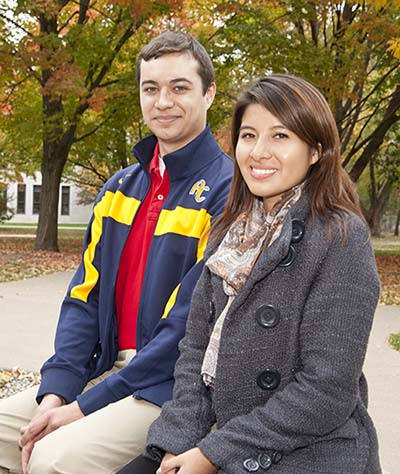 Marla Alvarado Neuerburg/Augustana Photo Bureau
Two members of the Augustana College first-year class - Lizeth Tamayo and Michael Harrison - are recipients of the Gates Millennium Scholarship, a program established in 1999 with a $1 billion grant from the Bill and Melinda Gates Foundation.
The scholarships Tamayo and Harrison received cover all tuition costs, including living expenses, at any college or university. Additionally, their scholarships are renewable throughout graduate school if they choose to pursue several specific areas of study.
"Each year the Gates Millennium Scholars Program selects 1,000 students who not only excel academically, but who also demonstrate significant leadership and commitment to community," said Dane Rowley, Augustana's dean of admissions.
Rowley described Tamayo and Harrison as part of a cohort of students who are attending schools that include Harvard, Wake Forest, Yale and Emory.
"Having worked with other Gates Scholars in the past, I've seen they are agents of change and innovation on whatever college campus they choose," said Rowley. "They become leaders among their peers, and they stand out as thinkers and doers in and out of the classroom."
About Lizeth Tamayo from Poplar Grove, Ill.
Background: "I attended Belvidere North High School, and I was lucky to have many wonderful teachers who prepared me for college. I am Peruvian-American, and my family is fairly small - it is just my mom, my dad, my little sister Evette, my dog Koda and me."
Family: "I am the first person in my family, both extended and immediate, to go to college. I have a lot of pressure to do well and be a role model for my younger sister and for my many younger cousins. I intend to major in pre-medicine with a minor in psychology.
On being a Gates Scholar: "The process of applying for a Gates Scholarship can be a bit stressful, apart from the long application you are required to fill out. The wait to hear from Gates was extremely nerve-wracking.
"During the wait to hear the results, I made sure I applied for as many other scholarships as I could. Once I learned I was a scholarship recipient I was so, so incredibly happy. It meant all my four years of undergraduate school would be fully covered, and that I would be able to attend my dream school - Augustana!"
About Michael Harrison from Avon, Ill.
Background: "I'm from a very small lake community outside of Avon, Ill. I live there with my mother and my younger brother Thomas. I attended Avon High School for my freshman and sophomore years, where I was a member of a class of only 13 students. I transferred to Bushnell-Prairie City High School for my junior and senior years and joined a class of 45 students."
Family: "My parents are both teachers who are originally from the Quad Cities. My mother and grandfather are graduates of Augustana. I am currently exploring the possibility of a degree in psychology."
On being a Gates Scholar: "I devoted a lot of time to the Gates Scholarship application. It was an extensive process that required me to submit nine essays, a résumé and a detailed application form. My school counselor and school superintendent were also required to submit recommendation forms. I worked on the application over the course of several weeks. I was notified that I was a finalist and then had to wait another month to find out if I had received this honor.
"I was relieved to hear I had been accepted into the Gates Scholar program.... My mother cried at the mailbox when I received notification because it meant I could afford to go to Augustana and would not leave college with student loans.
"I feel very honored to have joined the Gates Millennium Scholar community. The opportunities I will have to travel, to meet people, and to develop my leadership skills will no doubt be invaluable. I intend to take advantage of all the program has to offer and do my best to positively represent it."
About the Gates Millennium Scholarship
The Gates Millennium Scholarship promotes academic excellence and provides an opportunity for outstanding minority students with significant financial need to reach their highest potential by:
Reducing financial barriers for African American, American Indian/Alaska Native, Asian Pacific Islander American and Hispanic American students with high academic and leadership promise and significant financial need;

Increasing the representation of these target groups in the disciplines of computer science, education, engineering, library science, mathematics, public health and the sciences, where these groups are severely underrepresented;

Developing a diversified cadre of future leaders for America by facilitating successful completion of bachelor's, master's and doctoral degrees; and

Providing seamless support from undergraduate through doctoral programs, for selected students entering target disciplines.