October 11, 2012
Women's cross country ranked seventh in region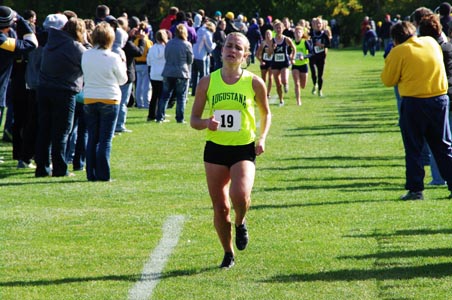 Sophomore Jessica Bacon won the individual title at the St. Ambrose Invitational on Saturday, October 6 and led the Vikings, currently ranked seventh in the Midwest Region, to the team championship as well.
Augustana stays in seventh place in the NCAA Division III Midwest Regional ranking after easily winning the St. Ambrose Invitational on Saturday, October 6 in Bettendorf, Iowa at Crow Creek Park. The Vikings of veteran head coach Fred Whiteside have lingered around the sixth or seventh position for the past four weeks.
Last week was a good one for Augustana as number one runner Sarahbeth Jones (Warren Township HS, Wadsworth, Ill.) finished second at the pre-national meet in Terre Haute, Indiana at the same time the rest of her teammates were winning the St. Ambrose meet with just 31 points. Sophomore Jessica Bacon (Rock Island HS, Rock Island, Ill.) won the SAU Invitational individually with a time of 19:18 over the 5000 meter layout.
The Vikings won the College of DuPage Invitational on September 28 and the week before that placed a solid third at the Brissman/Lundeen Invitational at Saukie Golf Course in Rock Island.
Washington University is the number one ranked in the region with Wisconsin-Eau Claire, Chicago, Illinois Wesleyan, Wisconsin-LaCrosse and Wisconsin-Stevens Point checking in ahead of Augustana. Carthage, Wheaton and St. Norbert round out the top 10.
The Vikings will travel to Oshkosh, Wisconsin on Saturday, October 13 to participate in the UW-Oshkosh Invitational.
NCAA DIVISION III MIDWEST REGION RANKINGS
As of 10/13/12
1 - Washington
2 - Wisconsin-Eau Claire
3 - Chicago
4 - Illinois Wesleyan
5 - Wisconsin-LaCrosse
6 - Wisconsin-Stevens Point
7 - AUGUSTANA
8 - Carthage
9 - Wheaton
10 - St. Norbert