October 11, 2012
Vikings now 13th in latest NCAA poll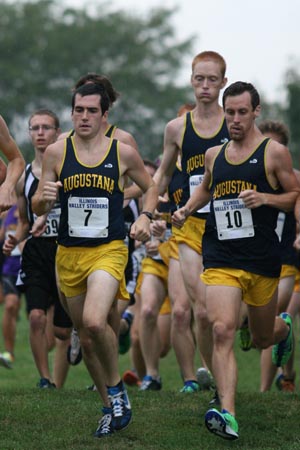 Augustana is now ranked 13th in the latest NCAA Division III national men's cross country poll heading into this weekend's Wisconsin-Oshkosh Invitational. The Vikings placed second at the pre-national meet on October 6 in Terre Haute, Indiana.
After finishing second at the pre-national meet on October 6 in Terre Haute, Indiana the Augustana men's cross country team actually dropped one spot in the NCAA Division III national rankings. The Vikings of veteran head coach Paul Olsen fell to 13 th from 12 th after taking the runner-up spot in the pre-national meet to previously 21 st ranked Claremont-Mudd-Scripps.
Augustana will get a chance to test its mettle this weekend at the Wisconsin-Oshkosh Invitational in Oshkosh, Wisconsin where most of the top teams in the Midwest Region will gather. The Wisconsin-Oshkosh course will be the site of the NCAA Division III Midwest Regional in November.
As has been the case all season, the Midwest Region is a dominant force in the national rankings, which are conducted by the US Track & Field/Cross Country Coaches Association. A total of seven teams from the Midwest are in the top 20 nationally as well as 10 of the top 30. North Central continues to lead the national poll with 280 points and all eight first place votes. Washington (3 rd – 263), Wisconsin-LaCrosse (7 th – 232), Wheaton (9 th – 216), Augustana (13 th – 178), Wisconsin-Stevens Point (15 th – 163) and Chicago (19 th – 138) are all in the top 20 from the Midwest Region.
2012 USTFCCCA MEN'S CROSS COUNTRY POLL (Week #5)
| | | | | |
| --- | --- | --- | --- | --- |
| Rank | School (1st place votes) | Pts | Region | LAST |
| 1 | North Central (Ill.) (8) | 280 | Midwest | 1 |
| 2 | Haverford | 272 | Mideast | 2 |
| 3 | Washington (Mo.) | 263 | Midwest | 3 |
| 4 | Bates | 253 | New England | 5 |
| 5 | SUNY-Geneseo | 252 | Atlantic | 4 |
| 6 | Calvin | 239 | Great Lakes | 6 |
| 7 | Wisconsin-LaCrosse | 232 | Midwest | 7 |
| 8 | Tufts | 217 | New England | 11 |
| 9 | Wheaton (Ill.) | 216 | Midwest | 9 |
| 10 | Claremont-Mudd-Scripps | 205 | West | 21 |
| 11 | Bowdoin | 198 | New England | 23 |
| 12 | SUNY-Cortland | 185 | Atlantic | 16 |
| 13 (tie) | Williams | 178 | New England | 8 |
| 13 (tie) | AUGUSTANA | 178 | Midwest | 12 |
| 15 | Wisconsin-Stevens Point | 163 | Midwest | 15 |
| 16 | Carnegie-Mellon | 158 | Mideast | 35 |
| 17 (tie) | Middlebury | 147 | New England | 13 |
| 17 (tie) | NYU | 147 | Atlantic | 19 |
| 19 | Chicago | 138 | Midwest | 18 |
| 20 | Allegheny | 127 | Mideast | 16 |