October 10, 2012
Vikings drop CCIW match at Millikin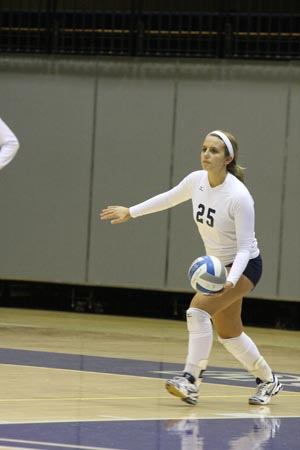 Junior Katrina Colclasure had two service aces and eight digs in the Vikings 3-0 loss at Millikin on Wednesday, October 10 in Decatur, Illinois.
DECATUR, Illinois - Augustana fell below .500 in College Conference of Illinois & Wisconsin play for the first time in the 2012 season with a 3-0 loss at Millikin on Wednesday, October 10 in Decatur, Illinois. The Vikings are now 14-7 overall and 2-3 in league play heading into a Saturday triangular at the University of Dubuque.
In a tightly contested first game the Big Blue prevailed 25-23 and then took game two 25-17 before another close set in game three that saw Millikin come out on top by a score of 25-22.
Sophomore Emily Leazer (St. Viator HS, Mt. Prospect, Ill.) recorded 11 kills for Augustana in the defeat. She also had eight digs, one solo block, two assisted blocks and one service ace. Sophomore Dory Dudley (Tremont HS, Tremont, Ill.) picked up six kills as did freshman Martha Murray (Evanston HS, Evanston, Ill.). Dudley added a dig and two assisted blocks while Murray had a setting assist and five digs. Senior Sarah Williams (Rockford Lutheran HS, Loves Park, Ill.) picked up five kills and had two digs and two assisted blocks.
Freshman Jordan Hampel (Hilliard-Davidson HS, Hilliard, Ohio) led the team in setting assists with 30 while freshman Kylie Siebert (Kaneland HS, Sugar Grove, Ill.) had a team high 12 digs. Junior Katrina Colclasure (Tri-Valley HS, Bloomington, Ill.) added eight assists.