October 10, 2012
Augustana defeats defending CCIW champs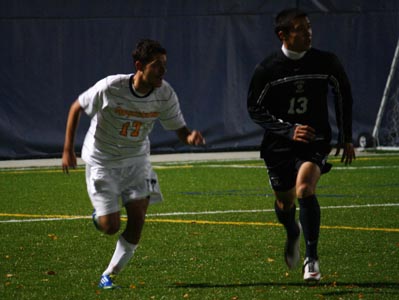 Senior Nick Wolfe scored his first goal of the season to put Augustana up 1-0 Wednesday night and the Vikings held on for a 2-1 win over defending conference champion Carthage at Thorson-Lucken Field.
ROCK ISLAND, Ill. - After being outshot 4-0 in the first half, Augustana put up a pair of goals in the second 45 minutes Wednesday night and held on for a 2-1 win over defending CCIW champion Carthage at Thorson-Lucken Field. The Vikings, now 6-5-2 overall, remain unbeaten in league play at 2-0-1, while Carthage falls to 10-4 and 1-2 in the CCIW.
The match was a defensive struggle in the first half, with the visitors getting off the only four shots of the period. The only shot on goal was by Jake Bukiri in the 33rd minute and was saved by Viking keeper Tyler Cowherd (Bettendorf HS, Bettendorf, Iowa).
The paced picked up considerably in the second half. Sophomore Nathan Kyes (Oswego HS, Oswego, Ill.) finally got off the hosts' first shot in the 50th minute, a blast from 25 yards that missed just high. He got off two more good attempts in the next eight minutes which were both stopped by Red Men goalie Milan Tijanic.
Finally, in the 64th minute, Augustana senior Nick Wolfe (Neuqua Valley HS, Naperville, Ill.) ran down a long Cowherd punt and beat Tijanic with his first goal of the season to put the Vikings up 1-0. With Augustana clinging to that narrow advantage, Cowherd came up big again in the 73rd minute stopping consecutive shots by Mike Heika, Michael Dombrowski and Drew Liogas in a span of eight seconds to preserve the lead.
In the 78th minute, the home side got an important insurance goal when junior Evan Johnson (Glenbard South HS, Glen Ellyn, Ill.) headed in a beautiful corner from junior Matt Shipon (South Elgin HS, Elgin, Ill.). The 6' 5" Johnson had moved up from his defender spot to play the corner kick. The goal was his first of the season and gave the Vikings a 2-0 lead.
Dombrowski cut the lead in half in the 84th minute with an assist from Shane Reilly, but the hosts held on over the last seven minutes to claim the victory.
Cowherd finished the night with eight saves and improved to 3-3-1 on the year. Carthage had a 16-6 edge in shots, a 10-4 advantage in shots on goal and a 6-2 margin in corners.
Augustana, currently tied with Wheaton for second in the CCIW, hosts league-leading Illinois Wesleyan on Saturday, October 13 at 7:30 p.m. That match will be the back half of a big women's/men's doubleheader at Thorson-Lucken Field.