October 10, 2012
Vikings remain perfect in CCIW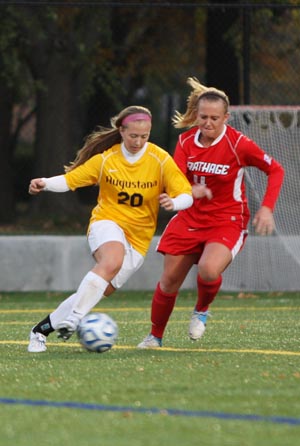 Augustana freshman Kelly Farell scored her team-leading ninth goal of the season and added a pair of assists Wednesday night as the Vikings remained unbeaten in CCIW play with a 3-0 win over Carthage.
ROCK ISLAND, Ill.-Kelly Farell (St. Ursula Academy, Sylvania, Ohio) had a goal and two assists Wednesday night as Augustana remained perfect in CCIW play with a 3-0 win over Carthage at Thorson-Lucken Field. With the win, the Vikings improve to 10-3 overall and 3-0 in the conference. The Lady Reds fall to 4-7-3 overall and 0-3-1 in the league.
Farell assisted on Jessica Kras' (Glenbard North Carol Stream, Ill.) third goal of the season goal in the 21st minute, which put the hosts up 1-0. That's the way the first half would end, despite the hosts holding a commanding 14-3 edge in shots. Senior Taylor Moesle (Sandburg HS, Orland Park, Ill.) narrowly missed making the lead larger, hitting both the right and left posts with shots a span of five minutes in the opening period.
Moesle gave Farell a beautiful feed in the 56th minute which the freshman converted for her team-leading ninth goal of the season and a 2-0 Viking lead.
Just a minute later, the pair teamed up again to assist on a goal by freshman Somer Druszkowski (Lincoln-Way Central HS, Manhattan, Ill.). This time it was Farell passing ahead to Moesle, who sent a cross in from the right side. Carthage keeper Abby Alm got a hand on the ball, but couldn't control it and Druszkowski finished it off to give Augustana a 3-0 lead. The goal was Druszkowski's third of the season.
The Vikings ended up with a 24-5 edge in shots, including 8-3 in shots on goal, and a 6-1 edge in corners. Freshman Meredith Chew (Paradise Valley, Ariz.) made three saves in goal before giving way to senior Bridget McDermott (Prospect HS, Mt. Prospect, Ill.) for the last nine-plus minutes.
On Saturday, October 13, coach Scott Mejia's club hosts a showdown with Illinois Wesleyan at 5:00 p.m. at Thorson-Lucken Field. Both teams are currently 3-0 in the CCIW and in a three-way tie with Wheaton for the conference lead.