October 10, 2012
2012 Season - Athletes Giving Back participate in roadside clean up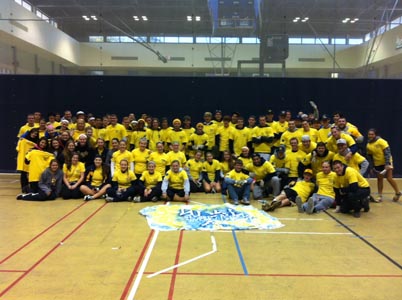 A total of 87 Augustana athletes, representing eight sports, took place in the Athletes-Giving-Back roadside cleanup on Sunday, October 7. The event, which was sponsored by Royal Neigbors of America, was the first of several planned community outreach events for AGB this year.
Combining a community service project with the opportunity to co-mingle with members of other sports, Augustana athletes engaged in a "Clean Up Day" on Sunday, October 7. A total of 87 student-athletes representing eight sports spent the afternoon picking up trash along 18th Avenue in Rock Island. They canvassed an area from Sunset Marina on the west side of town all the way to 47th Street near the Moline border.
"We were trying to accomplish two things and I think we did that," said Athletes-Giving-Back coordinator Krista Watson (Coal City HS, Coal City, Ill.). "Our first goal was to have our student-athletes give back to the Rock Island community and I think we did that. Our other objective was to bring members of different sports together to work for a common cause."
The Athletes-Giving-Back group on the Augustana campus is an arm of the Student Athlete Advisory Committee and it has been very active in past years. According to Watson, who is an all-conference performer on the Vikings' softball team, this is the first project of the year for AGB. The Augustana AGB was one of the first school groups in the Quad Cities to be associated with Royal Neighbors of America, which sponsored the "Clean Up Day" this past Sunday.
"We have lots of ideas," she said. "We do an outreach at Longfellow Grade School (in Rock Island) where we bring children to games. We are also looking at forming brother-sister teams where one athletic team will adopt another. During the Christmas season each athletic team takes a family in the community and helps out with gifts and food. Last year we participated in the Polar Plunge for Special Olympics and that was a great event for us."
Watson sees the idea of continuing the community outreach as a natural way to help out.
"It is important that all the teams come together and support one another," she remarked. "Doing events in the community is one way where we can all pitch in and help. It lays the groundwork for all of us getting everyone together. We are a community of athletes and we want to become more like a family."
The Augustana representation on Sunday consisted of members of the following teams: baseball, softball, men's cross country, women's cross country, volleyball, women's basketball, women's lacrosse and wrestling.