October 9, 2012
Augustana 10th at Ashford Invitational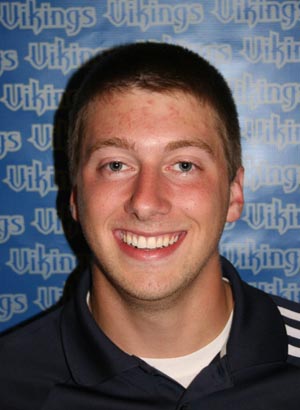 Freshman Alex Walter had Augustana's top performance at this week's Ashford Invitational. He finished tied for 18th with a three-round total of 232.
SILVIS, Ill.-Freshman Alex Walter (Camp Point Central HS, Camp Point, Ill.) turned in Augustana's top performance with a three-round total of 232 (74-77-81), but the Vikings finished 10th at the Ashford Invitational held Monday and Tuesday at Short Hills Country Club. Walter tied for 18th individually.
The host Saints won the team title with a collective 877 (295-293-289) strokes. They had four top-ten finishers, including individual medalist Chien Hau Tan (73-70-68--211).
After Walter, Augustana had sophomore Jake Groselak (Lemont HS, Lemont, Ill.) finish in a tie for 39th with a 246 (86-81-79). Sophomore Grant Murphy (Dunlap HS, Peoria, Ill.) shot a 252 (83-86-83) to tie for 46th. Freshman David Ferlmann (Peoria Notre Dame Dunlap, Ill.) tied for 48th with a 257 (85-85-87) and sophomore Max Channon (Wheaton Warrenville South HS, Wheaton, Ill.) was 52nd with a 268 (90-91-87). The Vikings shot a collective 987 (328-329-330).
After Ashford in the team standings came St. Ambrose (308-298-304--910) in second and Grand Rapids Community College (311-305-300--916) in third. Kirkwood (308-310-299--917) and Holy Cross College (307-305-305--917) tied for fourth, followed by Roosevelt (317-302-301--920), Indiana Tech (318-307-312--937), Purdue Calumet (322-327-329--978), Culver-Stockton (336-320-325--981) and Augustana.
On Friday and Saturday, October 19 & 20, the Vikings will participate in the Iowa Wesleyan Fun City Classic at Spirit Hollows in Burlington, Iowa.