October 7, 2012
Two late goals send Vikings to defeat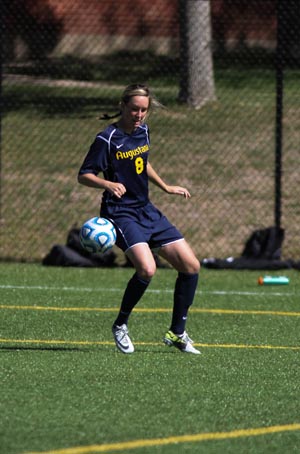 Senior Taylor Moesle scored Augustana's only goal on a penalty kick in Sunday's 2-1 overtime loss to Concordia-Moorhead.
ROCK ISLAND, Ill.-Concordia-Moorhead scored the tying goal on a free kick in the 89th minute and the game winner less than four minutes into overtime Sunday, handing Augustana a 2-1 defeat at Thorson-Lucken Field. The Vikings fall to 9-3 on the season while the Cobbers improve to 8-2-1.
Augustana looked to be in control, leading 1-0 with less than two minutes remaining. However, a foul called against the Vikings gave Concordia's Libby Fransdal a free kick opportunity from 30 yards out on the right side. Fransdal placed a perfect shot just out of the reach of Viking goalkeeper Meredith Chew (Paradise Valley HS, Phoenix, Ariz.) for her first goal of the season, tying the match at 1-1.
In the fourth minute of overtime, the Cobbers' Elizabeth Robinson collected a ball that Chew had attempted to head away and lofted a shot over the Viking keeper and a pair of defenders for the game winner. It was Robinson's third goal of the year.
Augustana had taken a 1-0 lead on a Taylor Moesle (Sandburg HS, Orland Park, Ill.) penalty kick in the 22nd minute. The Vikings had been awarded the kick after Concordia was called for a hand ball in the box. The goal was Moesle's eighth of the season, tying her for the team lead with Kelly Farell (St. Ursula Academy, Sylvania, Ohio).
The visitors held an 18-9 advantage in shots in the match, including 9-6 in shots on goal. Each team was awarded three corners. Chew finished with seven saves and Fransdal's goal was the first she had allowed in her last 452 minutes in goal. Cobber keeper Ali Nelson recorded five saves in the match.
Coach Scott Mejia's Vikings will try to move to 3-0 in the CCIW when they host Carthage, Wednesday, October 10 at 5:00 p.m. That match will be the first half of a women's/men's doubleheader at Thorson-Lucken Field.