October 6, 2012
Sawyer and Panko CCIW champions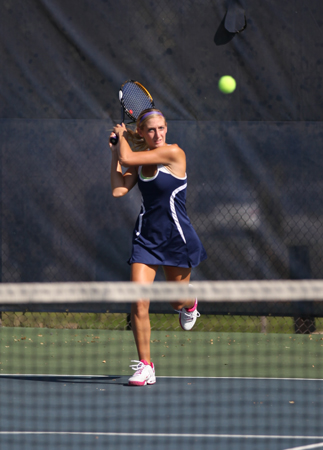 Junior Kim Sawyer won the CCIW number one singles title Saturday, joining Krista Panko, who won at number three, as Augustana's first conference singles champions since 1999.
ROCK ISLAND, Ill.-Junior Kim Sawyer (Batavia HS, Batavia, Ill.) and senior Krista Panko (Geneva HS, Geneva, Ill.) became Augustana's first CCIW individual champions since 1999, winning at number one and three singles, respectively, at Saturday's conference tennis tournament hosted by Elmhurst. Their performances helped Augustana to a second-place team finish behind champion Wheaton.
After a first round bye, Sawyer defeated Carthage's Bari Reynolds 6-2, 6-1 and Wheaton's Sarah Ray 7-5, 6-4 to become the Vikings' first CCIW champion at number one singles since Sarah Ainsworth in 1997. At third singles, Panko took care of Millikin's Ashlee Colby 6-1, 6-1 and Erin Hendrickson of Carthage 7-5, 6-1 to reach the championship. There, she defeated Lauren Schlabach of Wheaton 6-4, 6-4 for the title.
Freshman Aileen MacDonald (Mundelein HS, Mundelein, Ill.) earned a second place finish at number four singles, beating Kelly Comons of Millikin in the first round and Reynolds Cross of North Central in the semifinals by identical scores of 6-1, 6-0. Wheaton's Marissa Schults got the best of MacDonald in the finals, 6-2 and 6-4.
Juniors Emily Kaczmarek (Glenbard South, Lombard, Ill.) and Katie Scharnagle (St. Francis Prep, Lisle, Ill.) were each third-place finishers. At number two singles, Kaczmarek beat Katie Hatch of North Central 6-2 , 6-2 in the first round before falling to Carthage's Haleigh McPeek 6-1, 6-3 in the semifinals. She rebounded to defeat Nicole Darga of Elmhurst 8-6 in the playback semis and Illinois Wesleyan's Helen Alex 8-3 in the third place match. Scharnagle, at sixth singles, opened with a 6-1, 6-1 win over Elmhurst's Jennifer Guenther. She lost to Carthage's Holly Weber 6-3, 6-7 (5-7), 6-3 in the semis before bouncing back with wins over Kassandra Bernardo of North Central 8-6 and Nicole Nelson of Illinois Wesleyan 8-5.
The Vikings also had second and third-place finishers in doubles. Senior Megan Wethington (Geneseo HS, Geneseo, Ill.) and Panko were runners-up at number three. They got an 8-1 win over Millikin's Madeline Knott and Tiara Crusoe in the opening round before handling Lauren Casey and Svenja Schroeder of Illinois Wesleyan 8-3 in the semifinals. Shults and Erika Nelson of Wheaton blanked the Augustana duo 8-0 in the finals. At number one singles, Sawyer and MacDonald took third place. They beat Elmhurst's Darga and Brittany Kuehn 8-4 in the first round before falling to Lady Reds Reynolds and McPeek by the same score in the semifinals. In the playback semis, they got an 8-1 win over North Central's Hatch and Jenny Velasquez and in the third-place match, they beat Alex and Andrea Kerwin of IWU by a score of 8-5.
Other participants for the Vikings were junior Mariah Bardo (Sterling HS, Sterling, Ill.), who went 1-2 at number five singles, and the number two doubles team of sophomores Miranda Pence (Oswego HS, Oswego, Ill.) and Chelsea Lavin (Downers Grove South HS, Downers Grove, Ill.), who also went 1-2.
Wheaton won its 18th CCIW title and eighth in a row with 75 points, followed by Augustana (49), Carthage (37), Illinois Wesleyan (29), North Central (21), Elmhurst (14) and Millikin (0).