October 6, 2012
Smiths lead Augustana to 2nd at Pre-Nationals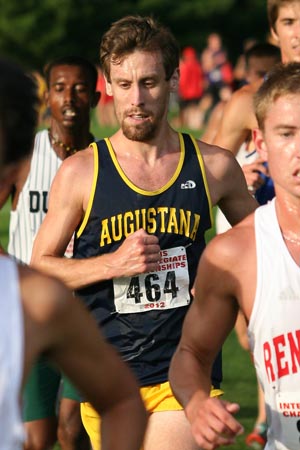 Senior Nathan Smith ran a 40th-place 26:36.5 Saturday at the Pre-National meet hosted by Rose Hulman. His performance helped the Vikings finish second among 30 teams competing.
TERRE HAUTE, Ind.-Coach Paul Olsen's top seven runners all finished in the top 50 Saturday as 12th-ranked Augustana took second place at the 30-team Pre-National cross country meet hosted by Rose Hulman. The Vikings finished with 98 points, behind only Claremont-Mudd Scripps' total of 77.
Senior Jonathan Smith (Moline HS, Moline, Ill.), who finished in 25:43.6 to take seventh place, was Augustana's top finisher. Freshman Keith Sands (United Township HS, Silvis, Ill.) was 15th in 25:56.8. Senior Brian Pollastrini (York HS, Elmhurst, Ill.) finished in 26:05.2 for 17th place. Senior brothers Justin and Nathan Smith (Fenton Bensenville, Ill.) ran 26:07.2 and 26:26.5, respectively, to take 19th and 40th places and freshmen Dan Popek (Minooka HS, Minooka, Ill.) and Ethan Koch (Prospect HS, Mt. Prospect, Ill.) ran 26:33.4 and 26:33.8 to place 49th and 50th, respectively.
Noah Droddy of DePauw was the individual champion with a time of 25:13.7. McKendree had the second and third-place finishers in Elkana Kipsang (25:30.1) and Blake DeLong (25:34.1). Max Robinson (25:38.6) of Johns Hopkins and Bennett Naden (25:40.2) of C-M-S rounded out the individual top five.
Behind C-M-S and Augustana in the team standings were Wabash with 160 points, Johns Hopkins with 166 and McKendree with 210. Rounding out the top ten were Loras (213), Emory (245), Manchester (287), Bellarmine (304) and Bethel, Minn. (322).
On Saturday, October 13, Olsen's harriers will be at the Wisconsin-Oshkosh Invitational. The starter's gun is scheduled to go off at 10:30 a.m.