October 6, 2012
Successful day for women's cross country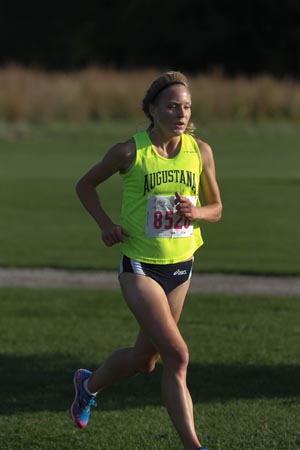 Senior Sarahbeth Jones placed second in the Pre National meet in Terre Haute, Indiana while her teammates were posting an easy victory at the St. Ambrose Invitational in Bettendorf, Iowa.
Success was all around for the Augustana women's cross country team, ranked sixth in the NCAA Division III Midwest Region, on Saturday, October 6. Veteran head coach Fred Whiteside split his team, sending senior standout Sarahbeth Jones (Warren Township HS, Wadsworth, Ill.) to compete in the Pre-National meet in Terre Haute, Indiana while the rest of the team took part in the St. Ambrose Invitational in Bettendorf, Iowa.
Jones had a tremendous outing at the Pre-National meet, which was held at the same site where the NCAA Division III national meet will take place in the middle of November. She served notice of her ability to compete at the national level by taking second individually (out of 326 runners) with a time of 21:45.0 over the 6,000 meter course. Hanna Oneda of Johns Hopkins won the race with a time of 21:37.6 while Holly Clarke of Johns Hopkins took third with a time of 21:52.8.
Jones, Oneda and Clarke were all together through 3,000 meters with times of 10:38 before Oneda pulled away over the final half of the course. This was Jones' third race of the 2012 campaign and she has been nothing short of brilliant each time out. She placed fifth in the Illinois Intercollegiate Championships on September 14 in Normal, Illinois and won the Brissman-Lundeen Invitational on September 21 on her home turf at Saukie Golf Course in Rock Island before Saturday's finish in Terre Haute.
While Jones was placing herself on the national scene in Indiana, her teammates dominated at the local level. The Vikings won the St. Ambrose Invitational at Crow Creek Park in Bettendorf, Iowa with 31 points in the 10-team field. Placing second behind Augustana was St. Ambrose with 52 points while Mount Mercy took third with 78. Grand View was fourth with 126 and Clarke finished fifth with 156. Ashford (163), Illinois Central (198), Lincoln (212), William Penn (228) and Sauk Valley (263) rounded out the field.
Sophomore Jessica Bacon (Rock Island HS, Rock Island, Ill.) won the individual title over the 5,000 meter Crow Creek layout with a time of 19:18, besting Chelsee Lisk of St. Ambrose by seven seconds (19:25). Bacon's junior teammate Kristyn Barton (York HS, Elmhurst, Ill.) took third in 19:25, the same time as Lisk. Junior Kate Benge (Pleasant Valley HS, Bettendorf, Iowa) was seventh in 19:30 and senior Kirstillyn Pohlman (Zion-Benton HS, Winthrop Harbor, Ill.) finished eighth in 19:31. Senior Tara Bistry (Joliet Catholic HS, Shorewood, Ill.) was the fifth finisher for the Vikings as she took 12th in 19:41.
Junior Kelsey Stockert (Peoria Notre Dame HS, Mapleton, Ill.) finished 16th in 19:59 and sophomore Becca Sund (Palatine HS, Palatine, Ill.) was 20th in 20:08.
Augustana will compete on Saturday, October 13 at the Oshkosh Invitational in Oshkosh, Wisconsin.