October 6, 2012
Vikings finish third at CCIW Championship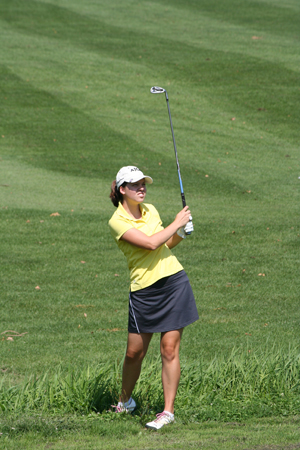 Senior Megan Vandersee's ninth-place 270 over three rounds helped Augustana to third place in the team standings at this weekend's CCIW Championship.
RACINE, Wis.-Senior Megan Vandersee (Sterling HS, Sterling, Ill.) became Augustana's first CCIW top-ten finisher in four years with a three-round total of 270 (85-94-91) at this weekend's conference tournament at Meadowbrook Country Club. Her ninth-place finish helped Augustana to third place in the team standings behind Illinois Wesleyan and Carthage.
Vandersee carded a 91 in Saturday's final round and the Vikings shot a collective 372 to overtake North Central for third place. Vandersee becomes the first Augustana player to finish in the top ten individually since Rachel Gahn took eighth in 2008. Junior Jamie Lawrence (Moline HS, Moline, Ill.), who had the Vikings' best single round of the tournament with an 82 on Friday, shot a 93 on Saturday to tie for 13th place with a total of 277 (102-82-93).
Senior Morgan Wilkinson (Westmont HS, Westmont, Ill.) had a three-round total of 284 (94-96-94) to tie for 17th. Junior Dena Capitani (Hinsdale Central HS, Hinsdale, Ill.) finished 22nd with a 289 (98-97-94), while freshman Samantha Barlage's (Marian Catholic HS, Lansing, Ill.) 306 (104-102-100) was good for 33rd and freshman Michelle Dempster's (Mother McCauley HS, Oak Lawn, Ill.) 314 (107-105-102) was 37th.
Behind individual medalist Rose Kelly (85-80-84--249), Illinois Wesleyan won its 11th consecutive CCIW title with a three-round total of 1018 (351-329-338). Carthage (358-360-380--1098) finished second, followed by Augustana (379-369-372--1120), North Central ( 370-368-387--1125), Wheaton (382-367-394--1143), Millikin (382-394-378--1154) and Elmhurst (384-391-390--1165).