October 6, 2012
Kras goal lifts Augustana over North Park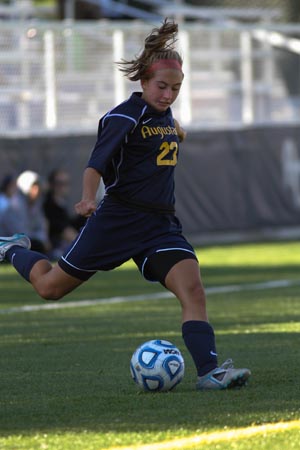 Freshman Jessica Kras scored Augustana's lone goal in its 1-0 win over North Park Saturday at Thorson-Lucken Field.
ROCK ISLAND, Ill.-A goal in the 66th minute by freshman Jessica Kras (Glenbard North HS, Carol Stream, Ill.) was all the scoring that took place in Saturday's contest between Augustana and North Park at Thorson-Lucken Field. However, it was all the host Vikings would need to improve to 9-2 on the year and 2-0 in the CCIW with a 1-0 win over the visiting Vikings. North Park falls to 4-7-0 and 0-2 in the conference.
Battling blustery conditions all day, the teams were scoreless through almost 66 full minutes until freshman Kelly Farell (St. Ursula Academy, Sylvania, Ohio) fired a pass into the box from the right side. Senior Taylor Moesle (Sandburg HS, Orland Park, Ill.) deflected the ball slightly and Kras put it past North Park goalkeeper Katie Ibarra for a 1-0 Augustana lead. The goal was Kras' second of the season, while Moesle and Farell recorded their fifth and third assists, respectively.
Although they didn't score again, the hosts picked up the tempo in the latter stages, outshooting North Park 5-1 over the final 22 minutes of the match. Augustana finished with a 14-4 edge in shots, including 6-3 in shots on goal, and a 3-2 advantage in corners.
Freshman keeper Meredith Chew (Paradise Valley HS, Phoenix, Ariz.) made three saves in recording her fourth solo shutout of the season. Three of those have come in the last four matches and she's been unscored upon in her last 364 minutes in goal.
Coach Scott Mejia's Vikings come right back on Sunday, October 7, hosting Concordia-Moorhead at 3:30 at Thorson-Lucken Field. That game will follow the 1:00 p.m. men's match between the same teams.