October 6, 2012
Late score pushes Elmhurst past Augustana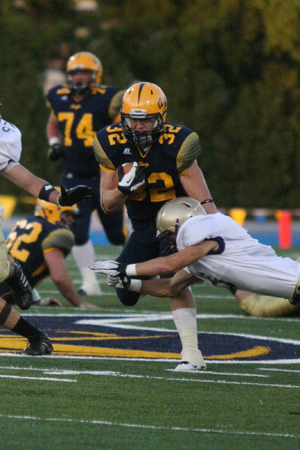 Senior running back Brett McWilliams ran for 164 yards and a touchdown on 10 carries Saturday, but the Vikings fell 31-27 at Elmhurst.
ELMHURST, Ill.-Scottie Williams scored on an eight-yard run with 45 seconds left Saturday to lift Elmhurst to a 31-27 win over Augustana at Langhorst Field. The loss drops the Vikings to 1-4 on the year and 0-2 in the CCIW, while the Bluejays improve to 4-1 overall and 1-1 in the league.
Augustana had taken a 27-24 lead on a 37-yard touchdown run by junior Eric Chandler (Cary-Grove HS, Cary, Ill.) with 2:36 left. Elmhurst started the ensuing drive from its own 24-yard line and quarterback Joe Furco and the Bluejay offense were able to squeeze off 13 plays in less than two minutes to go the 76 yards for the winning score. The Vikings looked to have come up with a stop at the Augustana nine-yard line on third down, but an offside penalty gave Elmhurst another shot and Williams took it in from eight yards out.
The game was a see-saw affair with each team scoring in every quarter. The Bluejays got on the board first with Furco hitting Joe Sanfillipo with a 24-yard scoring strike just a minute and a half in. That drive covered 26 yards in two plays following a Viking fumble.
After the teams traded punts, Augustana evened the score when senior Nick Welch (Oswego HS, Oswego, Ill.) connected with junior Nick Krantz (Moline HS, Moline, Ill.) on a six-yard touchdown pass with 3:45 left in the first period. Senior Brett McWilliams (Hononegah HS, Roscoe, Ill.) had back-to-back runs of 16 and 21 yards on the drive, which covered 50 yards in six plays.
A 21-yard David Tomis field goal gave the hosts a brief 10-7 lead early in the second quarter, but McWilliams put the Vikings ahead 14-10 with a 58-yard touchdown run. That's the way the opening half would end as Augustana missed two field goals and Elmhurst one in the final seven minutes.
Tomis' 23-yard field goal on the Bluejays' first possession of the second half cut the Augustana advantage to 14-13 and Elmhurst retook the lead on Williams' two-yard touchdown run at the 6:52 mark of the third quarter. Williams also ran in the two-point conversion to make it 21-14 Bluejays. Welch evened the score with a 10-yard touchdown run with 1:02 left in the third, capping a four-play, 51-yard drive that started with a 33-yard burst by McWilliams.
Another Viking fumble early in the fourth gave Elmhurst the ball on the Viking 36-yard line. Three plays yielded just two yards, but Tomis converted a 51-yard field goal to put the Bluejays up 24-21. He later missed a 44-yard attempt that would have extended the lead prior to Chandler's touchdown run.
The Vikings moved the ball well on the ground, rushing for a season-high 301 yards on 38 carries, an average of 7.9 yards per attempt. McWilliams led the way with 164 yards on 10 carries. Chandler had 64 yards on 11 totes and Welch carried 14 times for 47 yards. Each had a rushing touchdown. Welch completed nine of 21 passes for 126 yards with one touchdown and one interception. Krantz had five catches for 71 yards and a touchdown.
Williams ran for 168 yards and two scores on 25 carries and Furco completed 20 of 39 passes for 255 yards and one touchdown for the Bluejays.
Junior linebacker Erik Westerberg (York HS, Elmhurst, Ill.) was in on 13 tackles, including 10 solo, 2½ for loss and one sack. Senior linebacker John Draminksi (Wethersfield HS, Kewanee, Ill.) had nine stops and sophomore safety Bo Goshorn (Romeoville HS, Romeoville, Ill.) eight.
Next Saturday the Vikings host Millikin at Ericson Field on Homecoming. Game time is scheduled for 1:00 p.m.