October 4, 2012
Vikings move to 12th in NCAA poll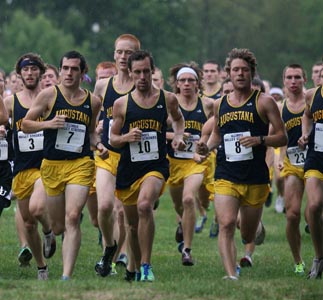 The Vikings were off last week but moved from 13th to 12th in the NCAA Division III national poll.
Heading into the pre-national meet on October 6 in Terre Haute, Indiana the Augustana men's cross country team climbed one spot in the NCAA Division III national rankings. The Vikings of veteran head coach Paul Olsen moved from 13 th to 12 th despite not competing last weekend.
Augustana's last outing was on September 21 when the Vikings won the Brissman-Lundeen Invitational, defeating 15 th ranked Wisconsin-Stevens Point by a narrow margin. Once again the national poll shows a heavy Midwest flavor as seven teams in the top 18 come from the Midwest Region.
The Vikings now have 186 points and are the fifth rated Midwest team in the national poll. North Central is number one with 280 points while Washington is third with 264. Wisconsin-LaCrosse checks in at seventh (231) with Wheaton at ninth (216) and Augustana in 12 th with 186. Wisconsin-Stevens Point (15 th with 160) and Chicago (18 th with 139) are also representing the Midwest Region.
2012 USTFCCCA MEN'S CROSS COUNTRY POLL (Week #3)
| | | | | |
| --- | --- | --- | --- | --- |
| Rank | School (1st place votes) | Pts | Region | LAST |
| 1 | North Central (Ill.) (8) | 280 | Midwest | 1 |
| 2 | Haverford | 272 | Mideast | 2 |
| 3 | Washington (Mo.) | 264 | Midwest | 3 |
| 4 | SUNY-Geneseo | 252 | Atlantic | 4 (tie) |
| 5 | Bates | 251 | New England | 4 (tie) |
| 6 | Calvin | 237 | Great Lakes | 6 |
| 7 | Wisconsin-LaCrosse | 231 | Midwest | 10 |
| 8 | Williams | 224 | New England | 8 |
| 9 | Wheaton (Ill.) | 216 | Midwest | 7 |
| 10 | Rochester | 209 | Atlantic | 11 |
| 11 | Tufts | 203 | New England | 9 |
| 12 | AUGUSTANA | 186 | Midwest | 13 |
| 13 | Middlebury | 182 | New England | 12 |
| 14 | Dickinson | 172 | Mideast | 21 |
| 15 | Wisconsin-Stevens Point | 160 | Midwest | 16 |
| 16 (tie) | SUNY-Cortland | 145 | Atlantic | 14 |
| 16 (tie) | Allegheny | 145 | Mideast | 15 |
| 18 | Chicago | 139 | Midwest | 20 |
| 19 | NYU | 138 | Atlantic | 19 |
| 20 | Johns Hopkins | 115 | Mideast | 29 |