October 3, 2012
Vikings shutout Coe 3-0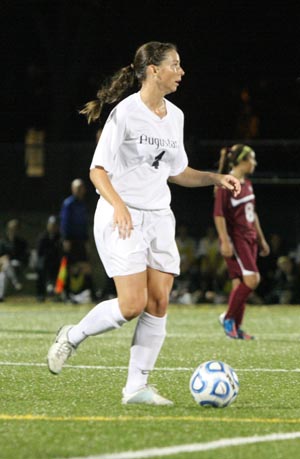 Junior Stephanie Barr scored her first career goal Wednesday night in Augustana's 3-0 win over Coe at Thorson-Lucken Field.
ROCK ISLAND, Ill.-Behind a suffocating defensive effort and goals from freshman Somer Druszkowski (Lincoln-Way Central HS, Manhattan, Ill.), senior Taylor Moesle (Sandburg HS, Orland Park, Ill.) and junior Stephanie Barr (Plainfield North HS, Plainfield, Ill.), Augustana defeated Coe 3-0 at Thorson-Lucken Field Wednesday night. The Vikings improve to 8-2 on the year, while the Kohawks fall to 7-4-1.
The Augustana defense was so good in the match that by the time Druszkowski gave the Vikings a 1-0 lead with a header off a beautiful Morgan Olsen (Downers Grove North HS, Woodridge, Ill.) feed in the 34th minute, Coe had already gotten off its final shot of the night. Druszkowski's goal was her second of the season and the first half ended with the hosts ahead 1-0.
In the 49th minute, Moesle took a lead pass from sophomore Kerry Skotnicki (Waubonsie Valley HS, Aurora, Ill.) and beat Kohawk keeper Kaylee Weems just inside the right post with her seventh goal of the season to put Augustana up 2-0. The Vikings just missed scoring again in the 55th minute when Olsen's free kick from 25 yards out bounced off the crossbar.
Barr made it 3-0 in the 80th minute, scoring from directly in front of the goal after freshman Jessica Kras (Glenbard North HS, Carol Stream, Ill.) had gotten a foot on the ball. The goal was the first of Barr's collegiate career.
Freshman Meredith Chew (Paradise Valley HS, Phoenix, Ariz.) went the distance in goal for Augustana and recorded her third solo shutout of the year. She faced just two shots all night--none after the 26th minute--and made one save. The Viking back line of Olsen, Skotnicki, Kimberly Grimmer (Downers Grove South HS, Woodridge, Ill.) and Maggie Hoscheit (St. Charles East HS, St. Charles, Ill.) denied Coe much in the way of scoring opportunities all night.
Augustana ended up with a 17-2 edge in total shots and a 9-1 advantage in shots on goal. The hosts also took the only four corners in the match.
Coach Scott Mejia's Vikings host North Park on Saturday, October 6, at 3:30 p.m. That match will be the second half of a men's/women's doubleheader at Thorson-Lucken Field.