October 2, 2012
North Central defeats Vikings in three sets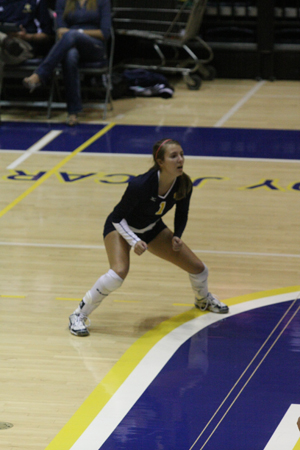 Freshman libero Kylie Siebert led Augustana with 16 digs a three-set loss to North Central Tuesday night.
ROCK ISLAND, Illinois - North Central remained undefeated in CCIW competition, defeating Augustana in straight sets Tuesday night at Carver Center. The Cardinals won 25-16, 25-17 and 25-12 to improve to 15-4 overall and 4-0 in the league. The Vikings fall to 13-5 on the year and 2-2 in the conference.
North Central jumped out in front in the opening set before Augustana came back to cut the Cardinal lead to 16-13. However, the visitors took the next seven points and went on to the 25-16 win.
The second set followed a similar pattern, with North Central taking a big early lead. The Vikings eventually cut it to 20-17, but the Cardinals scored the final five points to take the set.
In the third set, North Central took control from the outset and cruised to a 25-12 win.
Sophomore Dory Dudley (Tremont HS, Tremont, Ill.) led the Augustana with six kills, followed by sophomore Emily Leazer's (St. Viator HS, Mt. Prospect, Ill.) five and four from freshman Martha Murray (Evanston Township HS, Evanston, Ill.). Freshmen Jordan Hampel (Hilliard Davidson HS, Hilliard, Ohio) and Kylie Siebert (Kaneland HS, Sugar Grove, Ill.) led the Vikings with 13 assists and 16 digs, respectively.
North Central's Jenae Harner had a match-high 13 kills and Laura Kluk had 30 assists and a dozen digs.
Augustana will be competing at the Lincoln Christian tri-match on Friday, October 5.