October 2, 2012
Kelly Farell CCIW Offensive Player of the Week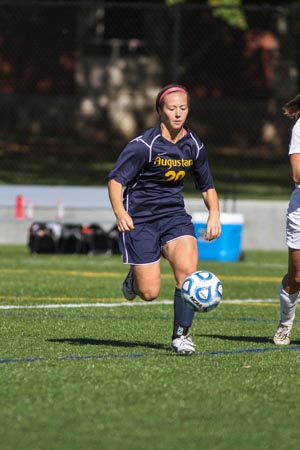 Freshman forward Kelly Farell is the College Conference of Illinois and Wisconsin Offensive Player of the Week.
ROCK ISLAND, Ill.-Four goals in a pair of wins, including her second hat trick of the season, has earned Augustana freshman forward Kelly Farell (St. Ursula Academy, Sylvania, Ohio) CCIW Offensive Player of the Week honors. Farell had the Vikings' lone goal in the team's CCIW-opening 1-0 win at Millikin this past Saturday and came back with three more in Sunday's 6-1 win at Grinnell.
Farell, who has started all nine matches for 7-2 Augustana, leads coach Scott Mejia's club in scoring this season with eight goals. She also has a pair of assists for a team-high 18 points. Half of her goals have been game winners. Her hat trick at Grinnell was her second of the season, matching the three goals she had in her collegiate debut, a 4-2 win over Loras at Thorson-Lucken Field on August 31.
Farell is the second Viking to earn conference Player of the Week honors this season. Freshman goalkeeper Meredith Chew (Paradise Valley HS, Phoenix, Ariz.) won the league's defensive honors on September 11.