September 30, 2012
Moesle, Farell record hat tricks at Grinnell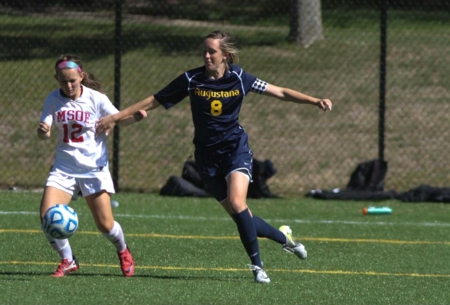 Senior Taylor Moesle scored three goals and added an assist Sunday as Augustana won 6-1 at Grinnell.
GRINNELL, Iowa-Senior Taylor Moesle (Sandburg HS, Orland Park, Ill.) and freshman Kelly Farell (St. Ursula Academy, Sylvania, Ohio) each scored three goals Sunday as Augustana defeated Grinnell 6-1 on the road. Farell's hat trick was her second of the season and helped the Vikings improve to 7-2-0 this season. Grinnell falls to 3-6-1.
Farell got the Vikings on the board with an unassisted goal, her sixth of the season, in the ninth minute. She got an assist from Moesle to score her seventh of the season just nine minutes later, putting Augustana up 2-0. In the 26th minute, Moesle beat Pioneer keeper Jordan Young to give the visitors a 3-0 lead and that's how the first half would end.
With a new keeper, Katy Oldach, minding the net for Grinnell, Moesle's second goal of the day put the Vikings up 4-0 just over two minutes into the second half. She added her third goal of the day and sixth of the season in the 62nd minute and Farell capped the Vikings' scoring with her third of the match and eighth of the season in the 69th minute.
The Pioneers got on the board in the 73rd minute when Maddie Gray scored on an assist from Kathryn Vincent.
Augustana freshman goalkeeper Meredith Chew (Paradise Valley HS, Phoenix, Ariz.) made a pair of saves in 61-plus minutes of action before giving way to senior Bridget McDermott (Prospect HS, Mt. Prospect, Ill.).
The Vikings outshot Grinnell 17-8 in the match and pressured both Pioneer keepers all day, putting 14 of those 17 attempts on goal. Augustana keepers, in contrast, faced just four shots on goal behind the Viking back line of senior Morgan Olsen (Downers Grove North HS, Woodridge, Ill.), junior Maggie Hoscheit (St. Charles East HS, St. Charles, Ill.) and sophomores Kerri Skotnicki (Waubonsie Valley HS, Aurora, Ill.) and Kimberly Grimmer (Downers Grove South HS, Woodridge, Ill.). The hosts took the only two corners on the afternoon.
Coach Scott Mejia's club starts a five-match home stand on Wednesday, October 3, hosting Coe at Thorson-Lucken Field at 7:30 p.m.