September 29, 2012
Vikings win 1-0 at Millikin to open CCIW play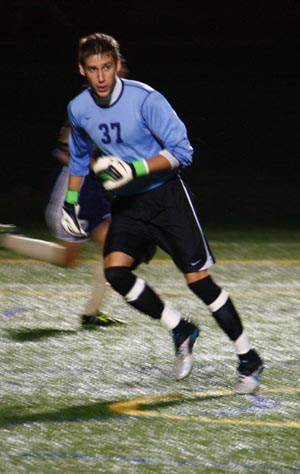 Sophomore Brett Johnson recorded his second shutout of the year Saturday as Augustana won 1-0 at Millikin to open CCIW play.
DECATUR, Ill.-Junior John McSpadden (Geneva HS, Geneva, Ill.) scored in the 30th minute Saturday and sophomore goalkeeper Brett Johnson (Zion Benton HS, Beach Park, Ill.) made that goal hold up with his second shutout of the season as Augustana opened College Conference of Illinois & Wisconsin play with a 1-0 win at Millikin. The Vikings improve to 4-5-1 on the season, while the Big Blue fall to 3-7.
McSpadden's goal was unassisted and his third of the year, tying him with freshman Jakob Rettke (Columbia-Rock Bridge HS, Columbia, Mo.) for the team lead.
Augustana had a 15-8 edge in overall shots and a 7-2 advantage in shots on goal. Corner kicks were even a three per team. Johnson recorded two saves, while Millikin's Daniel Sinclair had half a dozen.
The Vikings will be idle for a week before taking on North Park on Saturday, October 6 at Thorson-Lucken Field. That match is scheduled for a 1:00 p.m. start.