September 29, 2012
Augustana wins CCIW opener 1-0 at Millikin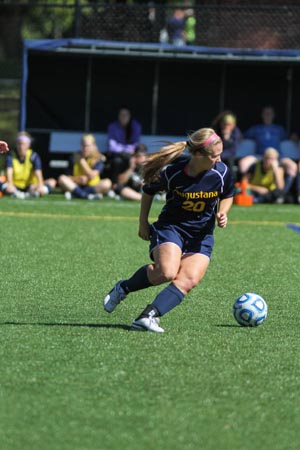 The fifth goal of the season by freshman Kelly Farell provided the margin of victory Staurday, as Augustana defeated Millikin 1-0 in Decatur, Illinois.
DECATUR, Ill.-Kelly Farell's (St. Ursala Academy, Sylvania, Ohio) goal in the third minute Saturday was all the scoring Augustana would need as the Vikings defeated Millikin 1-0 to open CCIW action. Coach Scott Majia's club is now 6-2 overall and 1-0 in the league. The Big Blue falls for 3-6-2 overall and 0-1 in the conference.
Farell, a freshman, scored her fifth goal of the season off an assist from senior Taylor Moesle (Sandburg HS, Orland Park, Ill.), her third of the year. That goal came on the second of 17 shots the Vikings got off in the match, nine of which were on goal. Millikin, in comparison, got off just four total shots and two on goal.
Augustana freshman goalkeeper Meredith Chew (Paradise Valley HS, Phoenix, Ariz.) recorded two saves in her second solo shutout of the year. Her counterpart for the Big Blue, Natalie Robertaccio, had nine saves in the match.
In addition to their advantage in shots, the Vikings also held a 7-3 edge in corners.
Augustana travels to Grinnell, Iowa on Sunday, September 30, for a non-conference match with the Pioneers. That contest is set to kick off at 2:00 p.m.