October 28, 2012
Barton leads Vikings to title at College of DuPage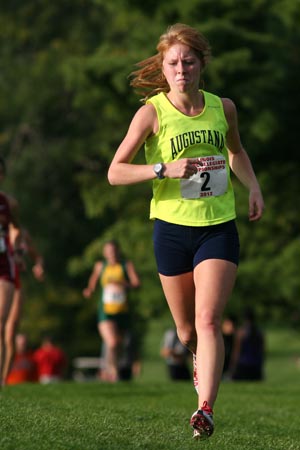 Kristyn Barton finished second individually and led Augustana to the team title Friday at the College of DuPage Invitational in Warrenville, Illinois.
WARRENVILLE, Illinois - Junior Kristyn Barton's (York HS, Elmhurst, Ill.) second-place finish led seven Augustana runners in the top 10 as the Vikings won the team title at the College of DuPage Invitational Friday. Barton's time of 18:16.9 over three miles was just 1.7 seconds off the winning time of unattached Mary Kate Jackson.
Augustana took places four through six as sophomore Jessica Bacon (Rock Island HS, Rock Island, Ill.) finished in 18:29.2, junior Kate Benge (Pleasant Valley HS, Bettendorf, Iowa) in 18:38.2 and senior Tara Bistry (Joliet Catholic HS, Joliet, Ill.) in 18:51.8. The Vikings also claimed eighth through tenth with senior Kirstillyn Pohlman (Zion Benton HS, Winthrop Harbor, Ill.) running 19:09.0, sophomore Lizzie Lundine (Willowbrook HS, Villa Park, Ill.) 19:11.7 and senior Annie Heifner (Oregon HS, Oregon, Wis.) 19:23.5.
Third-place Ali Proffitt (18:19) of College of DuPage and seventh-place Christina Luptak (19:0.1) of Elgin Community College were the other top ten finishers.
The hosts scored 74 points to finish second behind Augustana's 20. Illinois Wesleyan was third with 79, followed by Elgin (116), St. Francis (135), Oakton (148), Moraine Valley (169) and Robert Morris (196).
Next Saturday, October 6, coach Fred Whiteside's Vikings will be competing at the St. Ambrose Invitational at Crow Creek Park in Bettendorf, Iowa. The starter's gun for that meet is set to go off at 10:30 a.m.