September 26, 2012
Men's soccer falls at St. Ambrose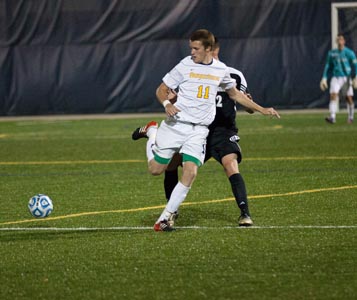 Freshman Jakob Rettke tallied the lone goal for the Vikings in a 2-1 loss at St. Ambrose on Wednesday, September 26 in Davenport, Iowa.
DAVENPORT, Iowa - In the annual battle of Quad City colleges, St. Ambrose defeated Augustana by a score of 2-1 in men's soccer on Wednesday, September 26 at the Davenport Soccer Complex in Davenport, Iowa. It was the first win in this series for the Fighting Bees since 2001.
In a game where the Vikings held the edge in both shots (13-11) and shots-on-goal (8-7), St. Ambrose prevailed by scoring goals in early portion of each half. Charlie MacInnes of the Bees scored on a penalty kick less than 13 minutes (12:32) into the contest to make it 1-0.
Augustana freshman Jakob Rettke (Columbia-Rock Bridge HS, Columbia, Mo.) evened the contest at 30:37 with an unassisted goal, his team-leading third of the season.
MacInnes scored in the first six minutes of the second half (50:28) to give the hosts a 2-1 lead and that proved to be the final.
Rettke and senior Jason Beckus (Neuqua Valley HS, Naperville, Ill.) led the Vikings in shots attempted with three apiece while sophomore Chandler Brooks (University HS, Bloomington, Ill.) and freshman Cole Collins (Lisle HS, Lisle, Ill.) had two each.
Junior goalkeeper Tyler Cowherd (Bettendorf HS, Bettendorf, Ill.) was in goal for all 90 minutes and recorded five saves.
Augustana is now 3-5-1 overall while St. Ambrose moved to 7-2 with the win. The Vikings will open College Conference of Illinois & Wisconsin action on Saturday, September 29 in Decatur, Illinois with a 2:30 p.m. match against Millikin.