September 23, 2012
Vandersee wins Mustang Fall Classic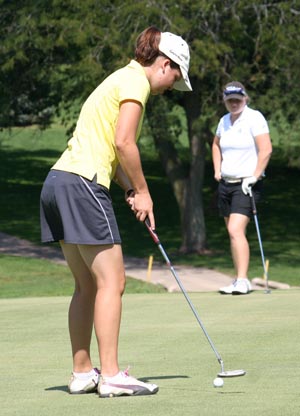 Augustana senior Megan Vandersee shot back-to-back 84's this weekend to win the Mustang Fall Classic hosted by Mt. Mercy in Marion, Iowa.
MARION, Iowa-Augustana senior Megan Vandersee (Sterling HS, Sterling, Ill.) claimed individual medalist honors this past weekend at the Mustang Fall Classic hosted by Mt. Mercy in Marion, Iowa. Vandersee carded back-to-back 84's on Saturday and Sunday to win the event by four strokes and help the Vikings to a second-place team finish.
Augustana led the team standings by two strokes after Saturday's round, but bolstered by second, third and fourth-place individual finishes from Alex Plemmons (87-85--172), Hailey Speck (86-87--173) and Elizabeth Burnett (88-87--175), Grinnell came from behind to win the team title on Sunday. The Pioneers shot a collective 698 (355-343) for the tournament to finish seven strokes ahead of the Vikings (353-352--705). Jennifer Gaffney (88-87--175) tied Burnett for fourth in the individual standings and led her Simpson (355-359--714) team to a third-place finish in the 10-team field.
Augustana junior Jamie Lawrence (Moline HS, Moline, Ill.) (89-88) and Viking senior Morgan Wilkinson (Westmont HS, Westmont, Ill.) (86-91) each shot 177 over the weekend to tie for ninth place. Junior Kelly Farina (Normal West HS, Bloomington, Ill.) (94-85--179), who competed for the seventh-place Augustana "B" (407-376--783) team finished in a tie for 12th.
Rounding out the Augustana contingent were junior Dena Capitani (Hinsdale Central HS, Hinsdale, Ill.) (94-89--183) and freshman Samantha Barlage (Marian Catholic, Lansing, Ill.) (102-99--201), who finished tied for 19th and tied for 40th, respectively.
Other members of the Viking "B" unit were freshman Caitlin Doherty (Westmont HS, Westmont, Ill.) and juniors Katelyn Lazar (Williamsville HS, Sherman, Ill.) and Kelly Olson (Prairie Ridge HS, Crystal Lake, Ill.). Doherty (102-98--200) finished 39th, Lazar (107-94--201) tied for 40th and Olson (104-99--203) finished 43rd.
Coach Ron Standley's Vikings will try to exact some revenge against the hosts when they compete in the Grinnell Invitational on Saturday, September 29.