September 23, 2012
Vikings finish 17th at Dubuque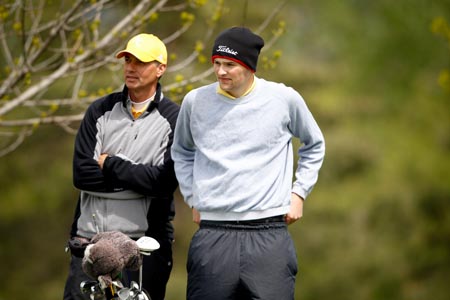 Head coach Paul Del Vecchio (L), senior Jeff Paustian (R) and the Augustana Vikings finished 17th at this weekend's Dubuque Fall Invitational.
DUBUQUE, Iowa-Freshman Alex Walter (Camp Point Central HS, Camp Point, Ill.) shot an Augustana-low round of 80 Sunday as the Vikings finished 17th at the Dubuque Fall Invitational. Clarke's Josh Udelhofen was the individual medalist and led his team to the title with a two-round total of 144. The Crusaders shot a collective 607, three strokes better than second-place Kirkwood.
Walter was Augustana's top finisher. His two-round total of 165 (85-80) tied for 54th. He was followed by sophomores Jake Groselak (Lemont HS, Lemont, Ill.), who shot a 171 (84-87) to finish tied for 72nd, and Grant Murphy (Dunlap HS, Peoria, Ill.), who tied for 76th with a 173 (86-87), and freshman David Ferlmann (Peoria Notre Dame HS, Dunlap, Ill.), who shot a 179 (94-85) to tie for 83rd. The Vikings' leader after day one, senior Jeff Paustian (Geneva HS, Geneva, Ill.), withdrew after shooting an 83 on Saturday.
Udelhofen (71-73--144) bested Coe's Tyler Gunderson (74-73--147) by three strokes for individual medalist honors. Central's Mike Maller (76-72--148) was third and his 72 tied for Sunday's best round.
Clarke (309-298--607) trailed Kirkwood (308-302--610) by one stroke after Saturday, but shot a collective 298 on Sunday to overtake the Eagles. Central (323-295--618) vaulted from a seventh-place tie to third with Sunday's best collective round. A second Central team (313-312--625), Simpson (315-310--625), Dubuque (313-312--625) and Viterbo (319-306--625) tied for fourth in the 18-team field.
On Thursday, September 27, the Vikings will be competing in the Elmhurst Invitational, which is schedule to tee off at 11:00 a.m. at Oak Brook Country Club in Oak Brook, Illinois.