September 23, 2012
Augustana falls 2-1 at Simpson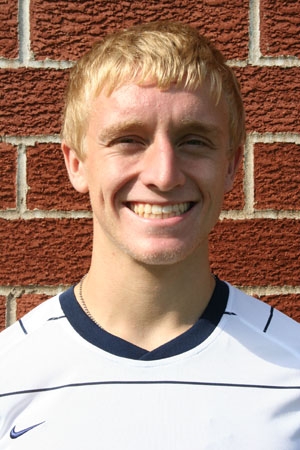 Freshman Gabriel Brouillette scored his first collegiate goal Sunday afternoon, but Augustana dropped a 2-1 decision to Simpson in Indianola, Iowa.
INDIANOLA, Iowa-Just three and a half minutes after Augustana freshman Gabriel Brouillette (Carmel HS, Mundelein, Ill.) had tied the match with his first collegiate goal, Simpson's Tyler Neumann answered with the eventual game-winner as the Storm defeated the Vikings 2-1 Sunday afternoon. Augustana falls to 3-4-1 on the year. Simpson improves to 7-4.
Mike Flanigan gave the Storm a 1-0 lead in the 12th minute, scoring from three yards out off a cross from Neumann. The goal was Flanigan's second of the season. The Vikings got off four more shots in the first half--two of which were on goal--and Simpson five, but neither team scored and they went to the break with the Storm leading 1-0.
Early in the second half, Neumann had a couple of chances to extend the lead, but Viking goalkeeper Brett Johnson (Zion-Benton HS, Beach Park, Ill.) stopped one of his shots in 48th minute and he missed an open net wide right in the 51st minute.
Two minutes later, Brouillette leveled the score, squeezing one inside the far post from the right wing.
However, in the 56th minute, Neumann finished off a breakaway with his sixth goal of the season to regain the lead for Simpson.
The Vikings got off three more shots, but Storm keeper Luke Aronow stopped them all to secure the win. He finished with five saves, while Johnson recorded six for Augustana. Simpson finished with advantages of 16-11 in total shots, 8-6 in shots on goal and 2-1 in corners. There were 10 fouls called on the hosts and seven on the Vikings and each tem received one caution.
Augustana will cross the Mississippi on Wednesday, September 26 to face St. Ambrose. That match, in Davenport, Iowa, is scheduled for 4:00 p.m.