September 23, 2012
Vikings fall to 5-2 with loss to MSOE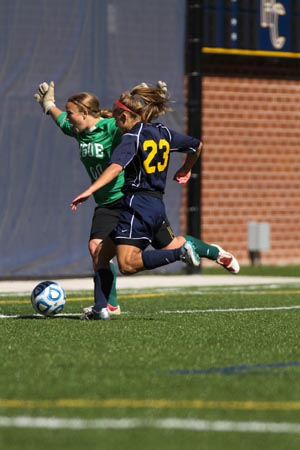 Freshman Jessica Kras gets by MSOE goalkeeper Emma Lumpe for her first collegiate goal Sunday. Kras' score would be the Vikings' only one of the day as the Raiders handed Augustana a 2-1 defeat at Thorson-Lucken Field.
ROCK ISLAND, Ill.-Paula Bohl scored the game-winner in the 57th minute Sunday to give Milwaukee School of Engineering a 2-1 win over Augustana, handing the Vikings their second straight loss at Thorson-Lucken Field. Augustana falls to 5-2-0, while MSOE improves to 5-3-1.
With teams tied at 1-1 early in the second half, The Raiders' Caitlin Liddiard lofted a cross in front of the Augustana goal. Viking keeper Meredith Chew (Paradise Valley HS, Phoenix, Ariz.) came out and got a piece of it, but Bohl was able to get a foot on the ball and find the net with her seventh goal of the season. MSOE had a chance to extend the lead less than a minute later, but Bohl's attempt at an open net was wide left. The hosts put four shots on goal in the final 32 minutes of the match, but Raider keeper Emma Lumpe was up to the task, stopping all of them to preserve the win.
MSOE took a 1-0 lead in the eighth minute. After the Vikings got off the first four shots, including two on goal, they committed a costly turnover deep in their end, giving the Raiders' Natalie Gaynor a breakaway which she finished off with her fourth goal of the season.
Augustana leveled the score in the 35th minute when freshmen Kelly Farell (St. Ursala Academy, Sylvania, Ohio) fired a long lead pass to senior Taylor Moesle (Sandburg HS, Orland Park, Ill.), who dished to freshman Jessica Kras (Glenbard North HS, Carol Stream, Ill.). Kras was able to beat Lumpe for her first collegiate goal.
The Vikings held a substantial edge in shots, getting off 19 total, including nine on goal. MSOE, in contrast, took just five shot, three of which were on goal. Lumpe recorded eight saves and Chew one. No corners were taken in the match.
Augustana will try and bounce back when it opens CCIW play at Millikin on Saturday, September 29. Game time in Decatur, Illinois is scheduled for noon.