September 22, 2012
Vikings run winning streak to eight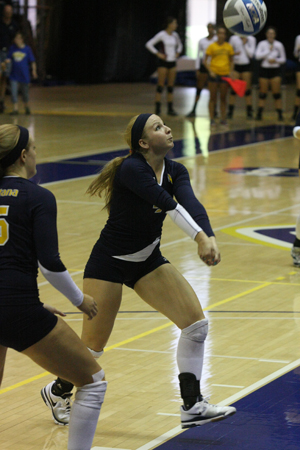 Freshman setter Jordan Hampel recorded 83 assists Saturday in Augustana wins over Benedictine-Springfield and Blackburn.
CARLINVILLE, Ill.-The Augustana volleyball team ran its winning streak to eight straight matches Saturday with a pair of straight set victories at Blackburn College. The Vikings defeated Benedictine-Springfield 25-16, 25-21, 25-17 in a noon contest and came back to beat the hosts 25-16, 25-15, 25-19 at 2:00 p.m. Freshman setter Jordan Hampel (Hilliard Davidson HS, Hilliard, Ohio) recorded 83 assists in the two matches. Coach Jamie Walters' club is now 12-2 on the season.
Augustana 3, Benedictine-Springfield 0 (25-16, 25-21, 25-17)
Behind 16 kills from sophomore Emily Leazer (St. Viator HS, Mt. Prospect, Ill.) and another 10 from classmate Samantha Kammerman (Sherrard HS, Milan, Ill.), the Vikings cruised to a three-set victory over the Bulldogs in their first match. Senior Sarah Williams (Rockford Lutheran HS, Loves Park, Ill.) added 10 kills and Hampel had 42 assists. Freshman Martha Murray (Evanston Township HS, Evanston, Ill.) recorded seven service aces, while Leazer had four. Freshman libero Kylie Siebert (Kaneland HS, Sugar Grove, Ill.) led Augustana with 11 digs.
Augustana 3, Blackburn 0 (25-16, 25-15, 25-19)
Hampel delivered 41 more assists in the Vikings' second match of the day, a three-set win over Blackburn. Leazer had team highs of 19 kills and four aces and added nine digs, second only to Siebert's 15. Murray had seven kills, while Hampel had eight digs and junior Katrina Colclasure (Tri-Valley HS, Bloomington, Ill.) seven.
Augustana jumps back into CCIW action on Wednesday, September 26, traveling to Elmhurst to take on the Bluejays in a 7:00 p.m. match