September 22, 2012
Vikings now 8-3 overall and 5-1 in CCIW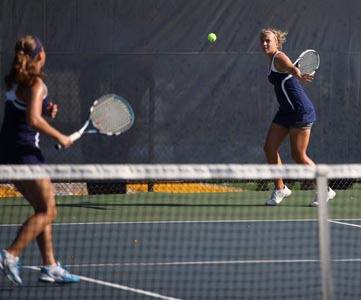 The number two doubles team of Chelsea Lavin (left) and Miranda Pence won twice on Saturday afternoon, beating teams from Wheaton and St. Ambrose as the Vikings split on the day. Augustana lost to Wheaton 7-2 and beat the Queen Bees 9-0.
ROCK ISLAND, Ill. - It was a split decision for the Augustana women's tennis team on Saturday, September 22 as the Vikings dropped College Conference of Illinois & Wisconsin decision to Wheaton but bounced back with a non-conference victory over Quad City rival St. Ambrose. The Vikings fell to Wheaton 7-2 in a morning match that was forced indoors to the Quad City Tennis Center due to high winds and dropping temperatures. They rallied from that defeat, the first in league play after five victories, to defeat the Queen Bees 9-0 in the afternoon in a match that was played outdoors at the Carver Courts.
Second year head coach Jon Miedema's team is now 8-3 overall and 5-1 in CCIW action. The Vikings had not taken two sets from Wheaton since 2003 and the victory over St. Ambrose was the sixth in a row and 10th in the last 11 meetings.
WHEATON 7, AUGUSTANA 2
The Vikings came into the match undefeated in CCIW play but the Thunder came away with a 7-2 victory. However, it was the first time since 2003 that Augustana had scored at least two points in a match against Wheaton.
Junior Kim Sawyer (Batavia HS, Batavia, Ill.) won a hard-fought 4-6; 7-5; 6-4 decision at number one singles over Sarah Ray. Sawyer, who by the end of the day moved her record to 10-1, fought off match point four times in the second set before coming all the way back to secure the win.
The other victory for Miedema's club came at number two doubles where the all-sophomore team of Chelsea Lavin (Downers Grove South HS, Downers Grove, Ill.) and Miranda Pence (Oswego HS, Oswego, Ill.) defeated Kristin Boyer and Marissa Shults 8-5.
At the end of this match Augustana was 7-3 overall and 5-1 in conference play while Wheaton moved to 6-1 and 5-0.
AUGUSTANA 9, ST. AMBROSE 0
Augustana continued its mastery of across-the-river rival St. Ambrose by picking up a 9-0 victory. The Vikings have won the last six matches in this series and 10 of the last 11 meetings dating back to 2006. Augustana upped its season record to 8-3 with the win.
Junior Kim Sawyer (Batavia HS, Batavia, Ill.) defeated Heather Matejka 6-1; 6-1 at number one singles and pushed her overall record to 10-1 on the season. She teamed with freshman Aileen MacDonald (Mundelein HS, Mundelein, Ill.) at number one doubles to beat Matejka and Samantha Rochkus 8-3. Sawyer and MacDonald are now 7-4 at number one doubles.
Junior Emily Kaczmarek (Glenbard South HS, Lombard, Ill.) beat Rochkus 6-3; 6-1 at number two doubles. Senior Krista Panko (Geneva HS, Geneva, Ill.) beat Mary Emily Turner at number three singles 6-0; 6-1 and moved to 7-7 on the year. Panko and senior Meghan Wethington (Geneseo HS, Geneseo, Ill.) worked together at number three doubles to beat Karissa Kalous and Emily Daniels 8-1 and Panko and Wethington are now 9-2 this season.
Junior Mariah Bardo (Sterling HS, Sterling, Ill.) beat Kalous 6-1; 6-1 at number five singles to go to 8-3 and junior Katie Scharnagle (Wheaton St. Francis HS, Lisle, Ill.) beat Tasha Olson 6-0; 6-0 at number six and is now 6-5. Sophomores Chelsea Lavin (Downers Grove South HS, Downers Grove, Ill.) and Miranda Pence (Oswego HS, Oswego, Ill.) won 8-0 at number two doubles over Turner and Olson.