September 22, 2012
Vikings 15th after first day at Dubuque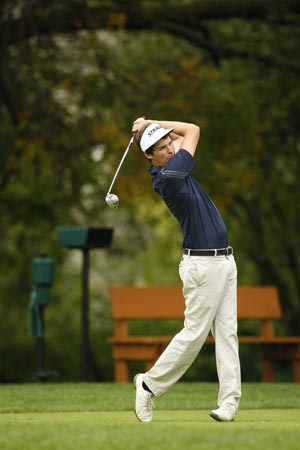 Senior Jeff Paustian shot an 83 Saturday at the Dubuque Fall Invitational. Augustana is in 15th place after day one.
DUBUQUE, Iowa-Augustana sits in 15th place after the first day of competition at the Dubuque Fall Invitational. Led by senior Jeff Paustian's (Geneva HS, Geneva, Ill.) round of 83, the Vikings shot a collective 338 on Saturday. Kirkwood Community College, at 308, has a one-stroke lead over Clarke in the team standings. The 18-team field will be back in action at Dubuque Country Club Sunday at 10:00 a.m.
Paustian is tied for 44th heading into tomorrow's closing round. He was followed by sophomore Jake Groselak's (Lemont HS, Lemont, Ill.) 84, which is tied for 51st, freshman Alex Walter (Camp Point Central HS, Camp Point, Ill.), who is tied for 60th with an 85 and sophomore Grant Murphy (Dunlap HS, Peoria, Ill.), who carded an 86 and is tied for 67th.
Rounding out the Augustana contingent is freshman David Ferlmann (Peoria Notre Dame HS, Dunlap, Ill.), who is tied for 88th with a first-round 94.
Clarke's Josh Udelhofen shot a one-over 71 and holds a three-stroke lead in the individual standings after day one. Central and Dubuque, both at 313, and Simpson (315), round out the top five in the team standings. The Vikings sit one stroke behind Webster and St. Ambrose.