September 20, 2012
Panko grabs CCIW award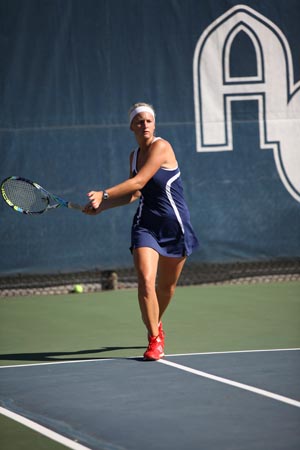 Senior Krista Panko won four matches in conference competition last week and was named the College Conference of Illinois & Wisconsin "Player of the Week".
Senior Krista Panko (Geneva HS, Geneva, Ill.) was named the "Player of the Week" for women's tennis in the College Conference of Illinois & Wisconsin after picking up two league wins in both singles and doubles play last week. Panko becomes the second consecutive Augustana player to earn the award, joining junior Kim Sawyer (Batavia HS, Batavia, Ill.) as the winner last week.
Panko was 2-1 at number three singles and 2-1 at number three doubles on the week, including a perfect run in her four CCIW contests. She defeated Carthage's Erin Hendrickson on September 13 (2-6; 6-3; 6-1) for the clinching point in the Vikings' 5-4 victory over the Lady Reds. She also teamed with fellow senior Meghan Wethington (Geneseo HS, Geneseo, Ill.) for a doubles win at number three.
She beat Lauren Kuehn of Elmhurst (6-4; 6-0) at number three singles on Saturday, September 15 and hooked up with Wethington for another victory at third doubles in the same match as Augustana beat the Bluejays 9-0.
Earlier this season Panko went over the 100 victory mark for her career. She is currently 6-6 overall in singles and is 8-1 in doubles with Wethington as a partner.
Augustana is 7-2 overall and 5-0 in CCIW play. The Vikings will host Wheaton at 9:30 a.m. on Saturday, September 22 and St. Ambrose at 3:00 p.m. later in the afternoon.